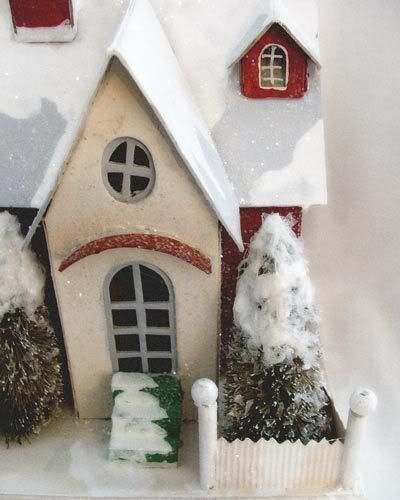 Today we were going to discuss dead mixmasters but after giving the subject some thought I've changed my mind. Small appliances that decide to breakdown during the busiest of baking seasons don't deserve the attention a blog post would bring them.
Instead I've decided to share a story I wrote in 1999, when I was working for the local newspaper.
Grandma Gussie's Christmas Village
While walking through the mall one evening I stopped in front of the Hallmark store and looked in amazement at the expensive porcelain Christmas village displayed in the front window. The buildings were so detailed and realistic. The realism was enhanced by the tiny figurines and street lamps.
It brought back memories of when I was five years old, sitting in front of great-grandma Gussie's Christmas tree. She carefully arranged each blown glass ornament which had been brought over from the old country. Next came the popcorn strings and the old fashioned tinsel which was heavy and the color of blue grey lead. Modern tinsel seems cheap and garish in comparison.
When Grandma declared the tree was finished she would sneak off to her bedroom closet where she kept her lovely Christmas village. They were nothing like the Hallmark set, just 8 simple buildings constructed out of cardboard which had been painted and sprinkled with clear, sparkly glitter. On the back of each building was a place to insert a single bulb. The little village glowed under the tree as the light passed through the red acetate that covered the windows.
Many years before my mother sat in front of Gussie's tree just as I had. Over the years we've discussed our family traditions and wondered what had happened to Gussie's decorations after she passed away.
Last Christmas my mother received a call from her cousin Joyce. They talked about Christmases past when the family attended services in the old German church. After church everyone would gather at Grandma's house for a late night dinner and open gifts around her tree. My mom wondered out loud about what had happened to the decorations.
"Why, I have them," said Joyce.
My mother told her how vividly I remembered the tree and what a special part of my childhood it had become.
At the end of the work day yesterday I received a call from the receptionist.
"Someone wants to speak to you" she said.
As I approached the desk I recognized Joyce. She handed me a box and said, "This is for you. I just wanted you to have them. I knew you would care for them."
I looked inside and felt my throat tighten up. I managed to gather up some words of thanks, fighting back the tears. We hugged and said our goodbyes and Joyce left to finish her Christmas shopping.
It was late and I grabbed my coat and walked out into the cold and dark parking lot. One of the reporters passed me on his way back to the office to file his story. He paused long enough to ask, "What's in the box?"
"Nothing much," I replied. "Just a dollar's worth of cardboard and glitter."
NOTE: Within six months Joyce was diagnosed with cancer and died shortly thereafter. Her beautiful gesture remains as a special moment in my life. It's an example of the beauty of a generous spirit.
Tomorrow we're going to think about oranges in winter.