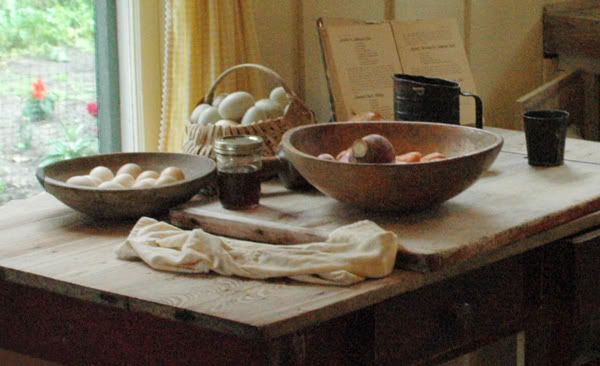 This is Marjorie's kitchen. If you ever find yourself in north central Florida I encourage you to visit her home. Marjorie is Pulitzer Prize winning author Marjorie Kinnan Rawlings, who wrote The Yearling, Cross Creek and a number of other books.
Upon her death her home was bequeathed to the University of Florida and to this day it remains as a wonderful example of early 19th century Florida architecture.
The home is not formally decorated in a modern sense, but Marjorie carved out a gracious and simple interior in the middle of a very rural community. She was unusual in many way, starting with the fact that she was college educated in an era where the thought of a woman attending college was the exception rather than the rule. She graduated from Univ. of Wisconsin in 1918 and her and her husband bought the Cross Creek property in 1928. It included 72 acres of orange grove and her screened porch looked out over a large portion of the grove. Can you imagine the aroma?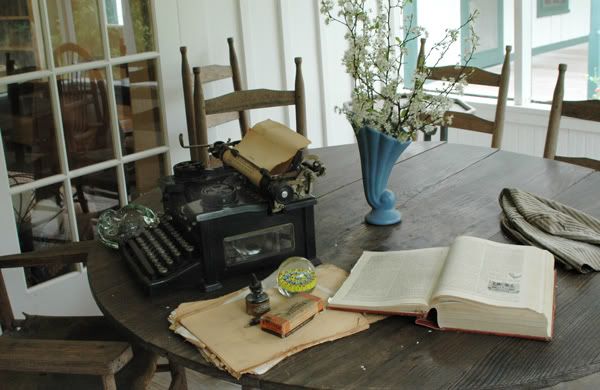 The house was a frame Cracker style house. Most of us would be surprised to know that not all the rooms are connected. You have to exit the house onto a porch in order to enter the kitchen or the bedrooms. The tenant house on the property is what I recognized as a shotgun house, which has a central hallway with doors leading to all the rooms in the house.
Stepping through the old metal garden gate felt like a coming home for me. Each summer our family would make the pilgrimage to the rural Florida panhandle community where my father was born and raised. This was the old Florida, before condos and high rises. This was the Florida of meals cooked on cast iron woodburning stoves and crystal clear water sipped out of metal dippers.
Her dining room is still set with beautiful china and crocheted tablecloths. An engraving of Seminole chief Osceola hangs on the wall. There's a wonderful pantry just off the kitchen and on the screened front porch is a metal bed for sleeping during oppressively hot weather, hence the term "sleeping porch". Volunteers dressed in 1930's clothing lead daily tours of the property. They point out the sour orange tree just outside her kitchen window.
SOUR ORANGE PIE
FILLING:
1 1/3 cup sugar
1 1/4 cup water
2 TBSP. butter
1/3 cup cornstarch
1/2 cup cold water
4 egg yolks, slighlty beaten
3 TBSP. milk
1/2 cup sour orange juice
1 1/2 tsp. orange peel
MERINGUE TOPPING:
4 egg whites
1/2 cup sugar
1 tsp. sour orange juice
9 inch pastry shell
Pie Filling:
Combine sugar, water, butter in pan. Add cornstarch and cold water. Cook until mixture turns clear. Add beaten egg yolks and 3 tablespoons milk. Cook an additional 2 minutes. Add 1/2 cup sour orange and orange peel. Let mixture cool and pour into 9 inch pie shell.
Meringue Topping:
Beat egg whites until stiff. Add sugar and sour orange juice. Brown in oven at 350 degrees.
Certainly if I had been older and well read I would have insisted that my father stop at Marjorie's Cross Creek home. She would have still been alive and I'd apologize for bothering her, but I would have never have passed up a chance to meet this fascinating woman.
She was friends with the movers and shakers of the literary world at the time. At any point you could find any one of these icons staying in her small home. The listed included Ernest Hemingway, Tom Wolfe, F. Scott Fitzgerald, Robert Frost and Margaret Mitchell.
She understood the importance of creating a beautiful personal space and she was well-known for her formidable cooking talents. She made it known that she would take no offense to criticism of her writing, but criticism of her cooking would not be tolerated.
Her book
Cross Creek
is a authentic look into life in rural Florida in the early 19th century. If you get a chance read the book or rent the movie
Cross Creek starring Mary Steenburgen.
There's also a collection of her recipes available, published under the title,
Cross Creek Cookery.
You can take a virtual tour of her home
HERE.
(Photo's taken at Rawlings Cross Creek home with my Fuji Finepix S5000)
Thanks for visiting today. Tomorrow we're going to wing it.