Everything is nine miles from here. That's my mantra, "I live nine miles from everything." We like it that way, but I do try to save up my errands and choose a day of the week to run them all. There are two choices if food shopping is on the list, the Italian market is 9 miles to the north and the generic big box store is 9 miles to the south. The post office is south, so if mail is included in the agenda, that dictates my route.
No matter which route I choose, there's something interesting that I can include in my day. To the south, there's an antique store, a darling old house to the brim with treasures. To the north, there's a fabulous Goodwill store standing in the middle of lots and lots of McMansions.....translation: really quality stuff.
This trip involved the post office so I head south. I hit the grocery store for a few items, then I mail off an apron and handbag and then turn left and pull into the parking lot of the antique store.
Antiques stores in the midwest have a charm all their own. There's lots of everyday household goods because this area has always been about homes and farms. The ladies who own Amazing Grace have created three floors of nooks and crannies where you could easily fill an afternoon. The items were once cherished, and will be cherished again.
Unfortunately, it was bitterly cold and I didn't dare attempt to cross the frozen highway to capture of photo of the lovely old home, perhaps in the spring I'll do that. The interior is delightful with pocket doors and sturdy woodwork. This is a small alcove in a dormer on the second floor. If this was my home I would tuck a daybed under those unusual windows.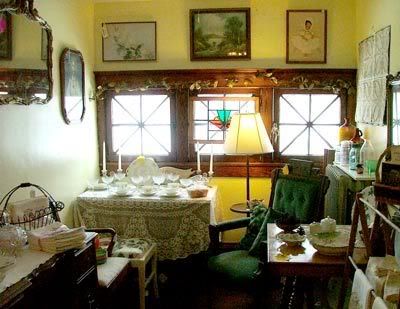 Old cupboards are filled to the brim with lovely old dinnerware and I found
Raggedy Andy hiding in a closet.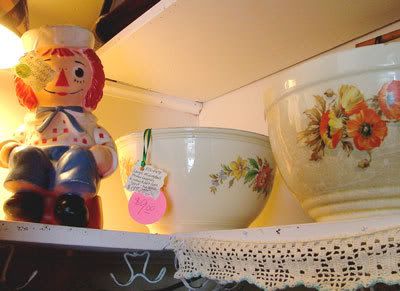 If you look around closely, you can find almost anything. Here's a pair of wooden shoes, tucked inside a wooden box in the basement.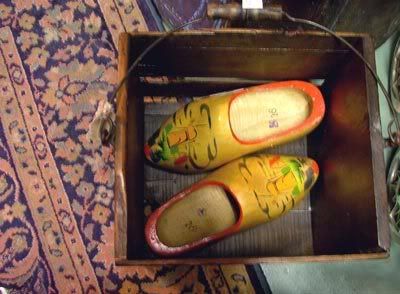 One of my favorites - beautiful things for a dressing table. Yesterday we visited my boudoir, but I'm saving the dressing table for another day.
I seriously think I need to go back for that mirrored tray.
This store has lots of vintage linens,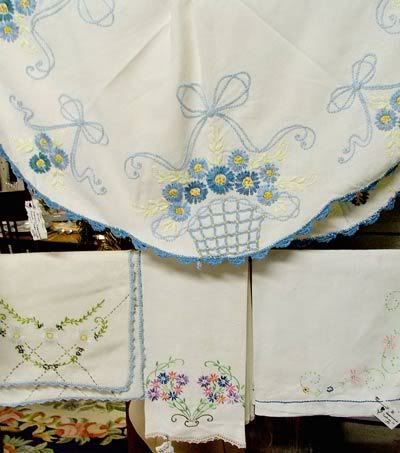 and aprons!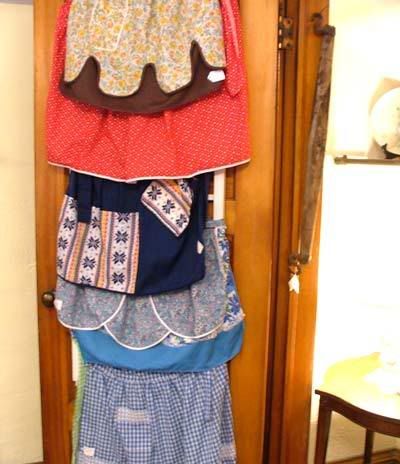 Some things bring back good memories. My mother had a set like this, but all the words (flour, sugar, coffee) were in German.
Here's another alcove filled with vintage baby items. So sweet.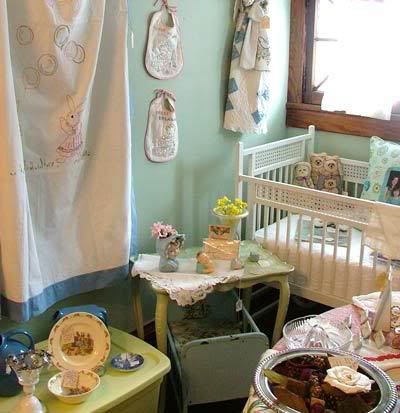 When I go back for the mirrored tray I'm probably going to take this home also.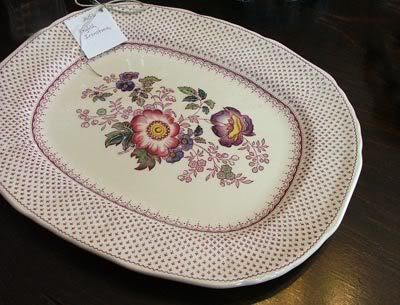 English ironstone, it's a good thing!
These ladies do a superb job of display. As a shopper I always want to see things arranged as they would be used in the home. Here's a fabulous setting featuring Kings Crown glassware. My grandmother had a set that she used with her Pink Willow dinnerware. Oh, the memories!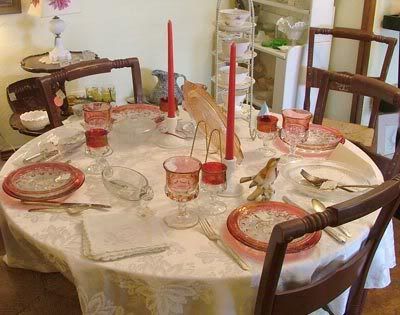 The iconic symbol of the American midwest would have to be the Hoosier cupboard.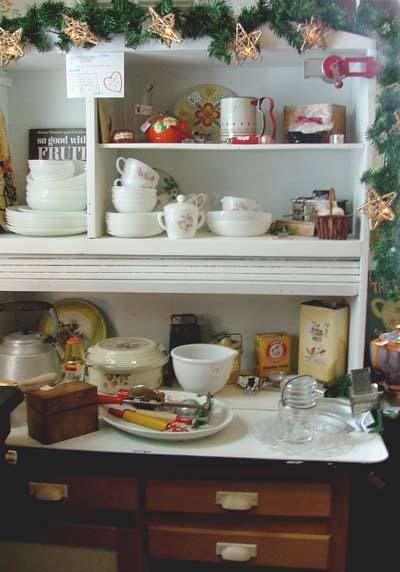 I've always wanted one, especially with the flour bin and sifter on the left hand side.
Thanks so much for going along on this peek at wonderful antique store. Perhaps one of the items has brought back a good memory for you. I hope so.
Very soon that mirrored tray and ironstone platter will be cherished again.
Don't forget - we're traveling tomorrow. It's the Way Back Machine!