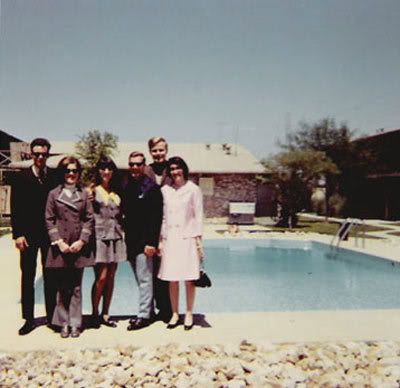 Time: Easter, 1969
Place: San Antonio, Texas

PADDLING FAST
It's strange how a photograph can take you back, not only to rememberances of the physical place but also to your mental and emotional state at the time. I was shocked at the feelings this photograph triggered as I was flipping through an old album.
We were all very young in this photo and feeling like astronauts who'd been dropped off on the surface of Mars without a survival handbook. Everyone in the picture was more than a thousand miles from home. We were struggling financially and I for one didn't even have money for a telephone in my apartment.
On this Easter morning we were all dressed up and heading to the famed River Walk in downtown San Antonio for the annual Starving Artist Show.
On the left is Vincent and Pat Previtti from one of the boroughs of New York City. They were newlyweds living in a tiny studio apartment. It was heaven to them because the first month of their marriage they had lived with his mother. Isn't it funny that I remember Pat so well? Forty years later I can just picture her spunky personality and her laugh. Vinnie had joined the Air Force to avoid being drafted into the Army and was stationed at Lackland Field.
I'm standing in the center with my brother's high school friend Terry. He was doing some last minute training before being shipped out to Vietnam. This was the time before it was OK to say you were gay and Terry was living a difficult secret life.
The surprising fact about me is that when this photo was taken I had a top-secret government clearance! I was working for a publishing company that was producing maintenance manuals for the U.S. Air Force and since it was wartime those documents were considered classified.
On the right are George and Marge. I don't remember alot about them. I think they were from Ohio.
The common demoninator is that we were all far from home living in a place and a culture that made us feel like strangers. I remember feeling very lonely at times. But we pulled together as friends and paddled like mad to make a life for ourselves, hosting dinners, planning outings and talking incessantly about "home" and what we missed. One of our favorite outings was to drive down to Padre Island and camp right on the beach. Eventually we threw ourselves into the local lifestyle, driving out to Bandera for some Texas two-step at road houses.
Just the summer before the Beatles had released "Hey Jude" and the lyrics applied to us:
"....anytime you feel the pain, hey Jude, refrain,
Don't carry the world upon your shoulders.
For well you know that it's a fool who plays it cool
By making his world a little colder."
Circumstances changed and we all moved on with our lives but for a brief moment we shared a raft and paddled really fast. And by the way, when I returned to Chicago....I really missed Texas!
For those of you who were looking forward to going to the egg farm - that will be tomorrow!