We are very lucky to have a wonderful Italian fresh market nearby. They are best known for their produce, some of which I can't even identify. It's important to us to be able to have fresh veggies in the middle of winter. This market has no shortage of employees and there's always someone re-stocking and freshing up the displays.
One day I was in the market shopping for eggplant with the idea of making eggplant parmesan for dinner. I grabbed a nice looking one and headed toward the bananas when I noticed a man bent over and examining some boxes on a ledge just below the pepper display. I was curious and checked it out for myself. It seems that when the employees are freshening up the displays they pull out the items that are slightly bruised or not quite perfect. They gather all these items together and put them in a big box, wrap it up in plastic and price it at......$1.49 for the entire box.
This is what I found and brought home.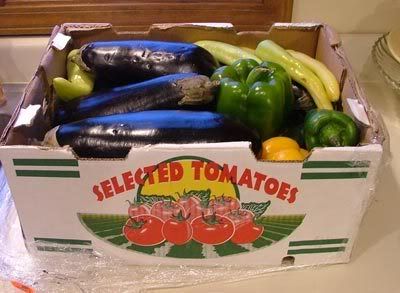 It contained 6 eggplants, green peppers, red, yellow and orange peppers, yellow banana peppers, cucumbers and one unidentified object. (You could probably help with this.)
That's alot of produce and I have to process all this in some way so that it can be used either immediately or in the future.
The green peppers will be used in the next few days as I'll make pepper steak for dinner. The red, yellow and orange peppers were sauteed lightly in olive oil and placed in a container in the fridge. They will keep for the next week and I'll use them in various ways, mostly just served on the dinner plate as my family loves them.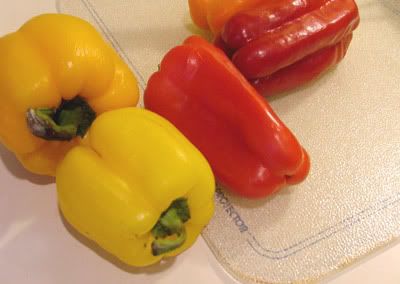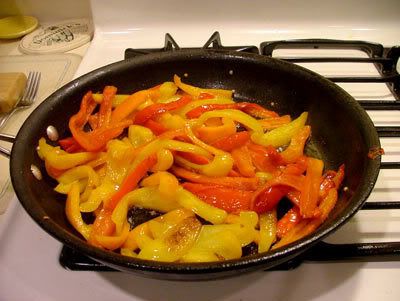 The cucumbers were sliced and placed in a mixture of water, vinegar and salt.
(What is that light green thing in the front?)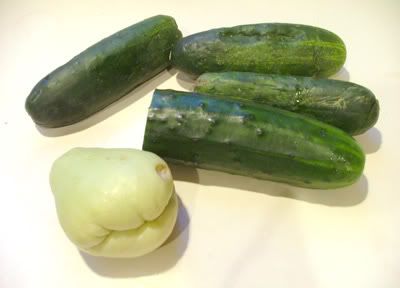 They're kept in the fridge and will stay for quite awhile.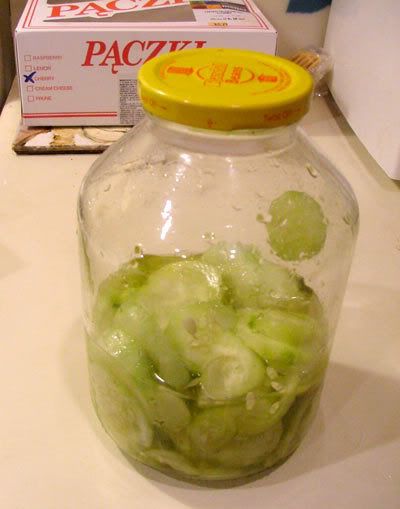 Here are the ingredient's for the brine.
2 cups water
2 TBSP. vinegar
1 TBSP. salt
These proportions can be increased to make double or triple batches, enough to cover the items.
I'm going to slice the eggplants, dip in egg and bread crumbs and fried. I'll make that eggplant parmesan I'd planned and freeze the other patties for future use. They keep really well if they're heavily wrapped in freezer paper before putting in the freezer.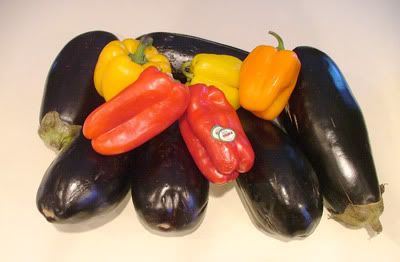 These peppers will be seeded and sliced into rings, combined with sliced carrots and celery and covered with brine and a couple inches of olive oil to make a homemade pepperoncini.
Regardless of whether you have a market that has these kind of special produce boxes, your market will have something on sale that you can take advantage of. I encourage you to thrift while you food shop!
AND THE WINNER IS.....
The winner of the Ugly Pound Cake Recipe Contest is Ginnie!! Ginnie, please e-mail me and we'll figure out which apron you would like. I'm going to be creating Ginnie's dessert in the next week and posting directions and photos. Thanks for participating.
Tomorrow is another trip in the Way Back Machine. Don't miss it!