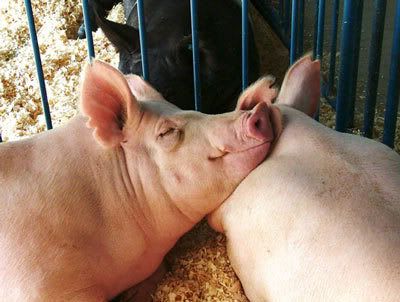 My goal this morning was to make you smile and to get you thinking about "bliss".
The dictionary says it means joy, rapture or ecstasy and as in many things those words are woefully inadequate to describe bliss.
Nowhere in the dictionary do I see any reference to it's fleeting nature, or that bliss is as individual as a fingerprint. For me bliss comes in moments not in hours. It's like jumpin in the air and experiencing that split second when you're weightless, the moment before gravity snatches you and brings you back to earth.
Chickens are noisy and gossipy, roosters are mean and turkeys are as dumb as rocks, but pigs......pigs have a certain quality I'll call "dumb goofy". It's as if they're blissfully unaware of their situation. They live in dirt, bathe in slurry and love to eat other people's garbage. But their dumb goofy nature doesn't realize that any of these things might be undesirable. And in life I've met some dumb-goofy people who were happy in some pretty trying circumstances.
But I think the pigs and the dumb-goofy people are on to something. Basically what they're saying is, I choose to be happy. It's a choice, everyday, whether we're going to let really insignificant things chink away at us. You need to clear your plate of worry which will leave you open to living in the moment and snatching some bliss of your own.
And look, the pigs have found some bliss outside their comfort zone. They've taken a cool shower and are resting in a fresh bed of wood chips. In an hour they'll be strutting their stuff on stage. But for now they're weightless and waiting for gravity to do it's thing.
(I took the above photo at the Kane County Fair - Nikon D70)