Didn't I say yesterday that we were going to wrap up some loose ends? Speaking of wrapping, look at the beautiful ribbons around this calendar.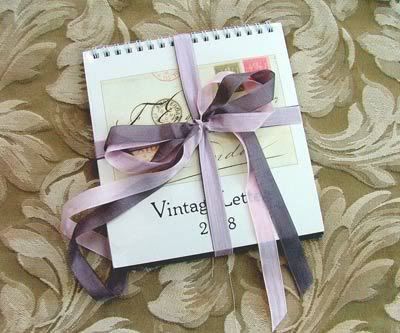 I won this from
Past Perfect Collection
and it's simply lovely. I'm a calligrapher and really appreciate the beautiful writing on the letters that are featured each month. Thanks so much. If you visit her website today you'll see a fabulous flea market. We certainly don't have
anything
like that around here.
Awards

Some great blogs have given me some awards. I'm always grateful to be acknowledged in this way. It's a great way to let others know that you appreciate the time and effort they put into their blogging. Today I'm feeling especially "Vegas" because I've gotten two "You Made My Day" awards!
Vee
has given me one. Thanks Vee, I can certainly say the same because I always find you have something interesting or thought provoking in your posts.
Vintage Indie
has also passed one along. If you haven't checked out her site, get over there soon!
The rules are that I name five blogs that "make my day". I'm not going to do ten because I've got laundry to do!
My five include some farming/agricultural/livestock blogs simply because I love to read about what goes on at a working farm. It might not always be pretty, but it's interesting.
Sugar Creek Farm -
Be sure to read the archives and get a feel for this farm couple who are raising their kids and livestock in rural Iowa. She's got some great farm photos and produced a wonderful calendar this year. Check it out!
Farmgirl Fare -
This is one of the lamb blogs I read. Yes, they raise sheep and relate all the day-to-day adventures involved in that process. Be sure to read her bio, her life story would make a great book and perhaps a movie.
The Mountain Dweller -
Here's another sheepherding family. They live in the mountains in France. I'll admit that I'm pretty clueless when it comes to the geography of France because I didn't know France
had
mountains. It's news to me that there are French Alps. I was only aware of the Italian and the Swiss alps. You learn something everyday. This woman is British, married to a Frenchman. It's interesting to view her life through the lens of cultural differences.
Tongue in Cheek -
Doesn't everyone read Corey? If you don't already, you will. This blog is written by a wonderful Californian ex-pat married to a Frenchman and living the good life in France. She's just the kind of person you'd want for a friend and she proves to be a friend to her readers each and every day.
My Marrakech
- I'll admit to being an adventure junky and a lover of the exotic, but most of my adventures are lived through the eyes of others. Such is the case with My Marrakech. Can you imagine? This American family picked up and move to Morocco where they're creating a guest house called, "Peacock Pavilion". Check out the archives. You'll be stunned at some of the decor they're creating.
And that's my lineup. Those who were nominated can feel free to pass it along or not. I play loose with the rules, but you already know that.
Don't forget about the Postcard Project.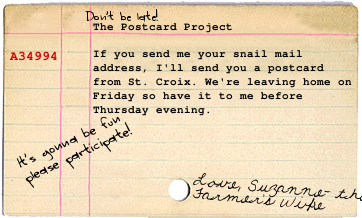 Thanks for stopping by today. I'm going to be busy preparing for our trip to St. Croix so tomorrow will be Pot Luck Day!