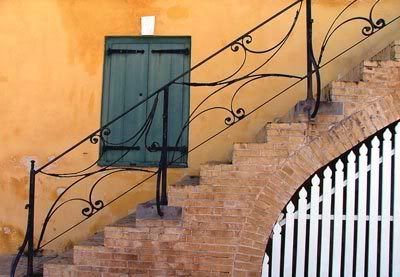 Last week the farmer and I escaped to the island of St. Croix in the U.S. Virgin Islands.
The grey pall of winter was swept away the moment we landed. A riot of color swept before us in a joyous crazy quilt of lush hillsides and tropical buildings. I'm sure someone can explain why the colors of the tropics do not work on the exteriors of northern buildings. Any attempt to paint homes these colors at home produce garish results. I'm sure it has something to do with the quality of the strong light and the fact that the structures must hold their own in the colorful landscapes.
I'm always fascinated by old buildings in various states of decay. Faux finishers employ complicated techniques to recreate the texture, finish and color that is a result of hundreds of years of wind and weather on the old Barrel House at Fort Christiansted. My camera almost burned up as I captured hundreds and hundreds of photographs.
The entire town shows it's history like an ancient garment. I've not been to Europe but this certainly captures the feel - narrow streets, odd stairways, stone, wood, stucco and wrought iron give the place character that a Disney imagineer could never capture.
Beautiful old churches are everywhere. The island was originally Danish and it's apparent the Danes were not interested in camouflaging their battlements because the complex of buildings at Fort Christiansted is painted this yellow ochre and the fort at Frederiksted is painted a beautiful red.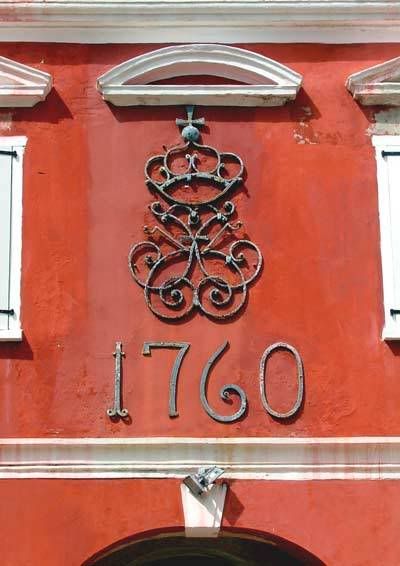 As a calligrapher, I'm inspired by the royal crest above the entrance to the fort.
Come back tomorrow when we'll see more of St. Croix. This week we'll be visiting some island spots that are off the beaten path, including a thatched hut bar deep in the rain forest.