The local Goodwill store is a modern facility built in the last couple of years. The most innovative feature of the store is the drive-through donation area. When you pull up to the door an employee appears to carry your items inside. If you put everything in the trunk and pop it open from inside, you never have to leave the comfort of your car. That's especially important when there's 4-6 inches of snow predicted on March 21. Here's the scene at 5:30 a.m. The farmers opts for the broom method of snow removal.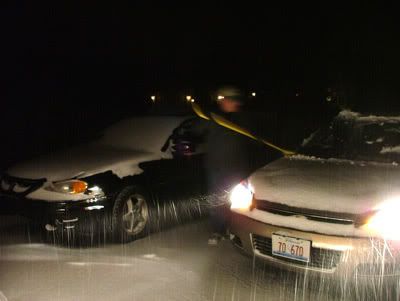 The other important aspect of this particular location is that it's centered in the middle of some very affluent housing developments, which means the donations include some high-end merchandise, like Dooney and Bourke handbags.....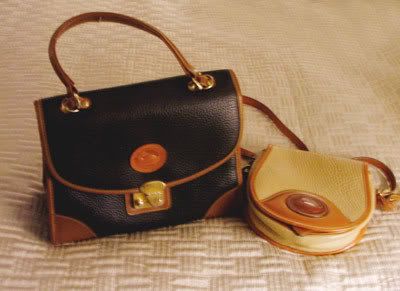 One of the Dooney & Bourkes was looking a bit worse for wear, but it was obvious they owner never heard of leather cleaner. Handbags are $1.99 but recently the store has employed someone who is knowledgable in spotting the higher items in the store and they are priced accordingly. Currently there's a Chanel bag in the locked case that I'm salivating over.
Unfortunately there's a strange occurrence that twarts my efforts to divest myself of "stuff" and unclutter my home. Each time I drop off boxes of donations my car automatically drives around the front, parks and shuts off the engine. What's a girl to do?? Obediently I go inside and look around, and buy more stuff! Fortunately I've never bought my own stuff back. There was a close call one time.
And so I play the ebb and flow game. Up to this point in time I'm winning. Five boxfuls in,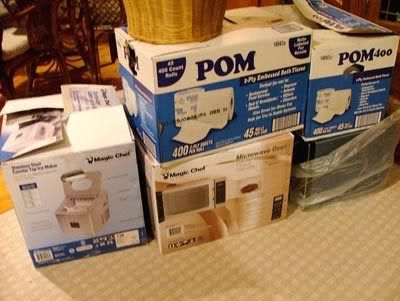 one boxful out.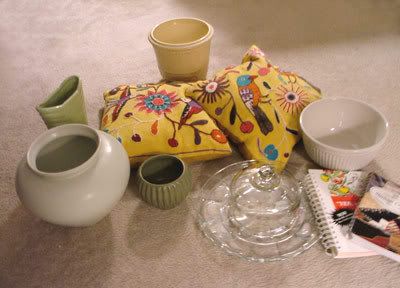 And you know what they say, "One man's junk is another man's treasure."
For all of my blogger favorites who are now hosting "Easter Parades" and blog entries filled with flowers and bursting with springtime....you'll understand if I stay away for awhile. Although your images are lovely and words filled with the hope of spring, I'm just a little cranky about the spring thing right now. Sigh.
NOTE: The Postcard Project was a success. If you didn't get involved the first time around, don't worry, there will be another chance sometime in the future. Thanks to Nancy who reciprocated and sent me a card from Disneyworld. Thanks Nancy.

Tomorrow we're going to attempt to bake a cute bunny cake. Attempt is the operative word because you remember what happened with the fancy tree cake. See you tomorrow. Wear your best apron and help me out.