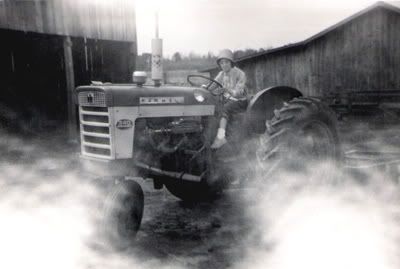 The time: April, 1961
The place: Uncle Jackie's farm - Westville, Florida
Forgive the quality of the photo. It seems someone's camera had a major light leak, or perhaps it's one of those instances of capturing ghostly images on film. Nah.
I'm sitting on a beautiful old Farmall. Sure I wish that tractor was parked in my yard today. My uncle Jackie farmed peanuts, cotton and sugar cane in the Florida panhandle and we always treasured our yearly visit down on the farm.
This photo speaks to the fact that I always felt more comfortable in this very isolated and rural area. It makes me think there's something odd, perhaps genetic memory, pulls us towards what feels more like home. The swampy, sometimes spooky Spanish moss laden landscape always felt more home to me than our city lot. Ditto for my mom's family stomping ground in rural Tennessee.
As adults the farmer and I struck out for the country as soon as we were able. We were always moving further west of the city, with civilization hot on our heels. The final harvest of our lives will be enjoyed (hopefully) from our mountaintop in the foothills of the Ouchita mountain range in rural Arkansas. I'm thinking civilization can't climb mountains....or may it can.
To change the subject, what's up with that outfit?? I was a total geek, seriously out of it, and as you can see without a clue when it came to fashion. I'm 13 YEARS OLD HERE!!! Can you imagine what would happen today if a 13-yr. old went out looking like that?
I can hear Tim Gunn saying, "Make it work." I couldn't even make it match.
And SERIOUSLY....what is that on my head?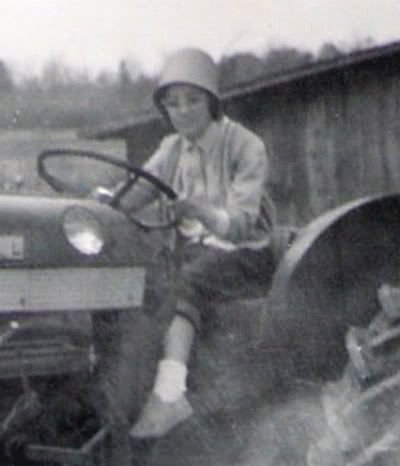 Is that a bucket hat? Or a bucket? Can't remember but I can't imagine sticking a bucket on my head nor buying a bucket hat!! Where's
Chris March
when I need him?
Tomorrow we're going to look at some really fantastic art. You want to be here for that.