Welcome SITS Sisters. Don't forget to visit my
main page
for a chance to win one of my aprons.
- - - - - - - - - - - - - - - - - - - - - - - - - - - - - - - - - - - - - - - - - - - - - - - - - - - - - - - - - - - - - - - - - - - -
That title is not exactly accurate because I've never actually cooked paella, but you have to admit that "I'm killing my family one pan of chipped beef at a time" just doesn't have the same ring to it. Agreed?
The potentially dangerous situation lurks in this pan: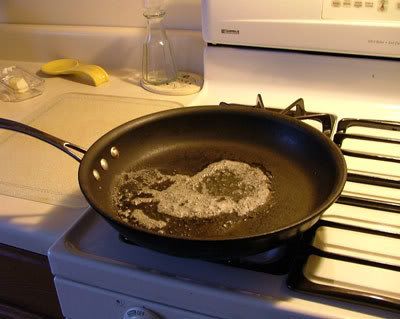 It's a very nice, large non-stick pan. It wasn't cheap and when I bought it my plan was to tuck it in a box in my closet and save it for "the retirement". It's very similar to the practice of keeping a hope chest and based on the fact that I'm hoping to retire. That plan seemed pretty stupid on second thought and I needed something really big for that chipped beef.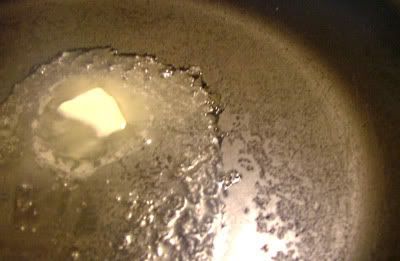 The problem comes in with my inability to stick to the rules in regards to non-stick cookware. You know.....you need to use those special plastic utensils. I can follow the rules if it involved spoons or those pasta fork thingies, but I draw the line at spatulas. Those plastic spatulas just don't have enough oomph to them. When I try to get under those boneless pork chops they bend instead of scrape.
I've tried, really I've tried. But I always resort to my old favorite. A wood handled metal spatula. My best friend in the kitchen, next to my wooden spoons.
If I'm to believe the scientific evidence we're all in danger. Of course they fail to mention that you'd need to eat a railroad car full of the errant shavings from the bottom of this pan in order to trigger something bad. How do I know? I'm living proof.
I drank an ocean full of TAB in the 70's and have lived to tell about it!
And yes, that's butter in the pan, because everyone knows that chipped beef starts with a really good roux, and really good roux starts with butter.
If I could figure out how to tag my stories and categorize them, this would be under the "Bad Wife & Mommy" heading.
NOTE: The Farmer came into my office the other day. I have a list of potential story ideas written on a big sheet of freezer paper behind my desk. He was scanning down the list and came to something that read "I'm killing my family....". He got pretty worried, thinking it involved a plot to grab insurance money and head for Tahiti. Nah, he should know my plans are never that ambitious!