At lunch with my sister on Wednesday, I confirmed that not all Cubans are created equal. We talked here on the blog about my search for the perfect piece of pie but the menu contained another foodie obsession of mine -
The Cuban Sandwich.
My past included a red-haired Cuban sister-in-law, with a personality as exciting and fiery as her hair. Her parents had fled in the wake of Castro's rise to power and her father practiced medicine at the local hospital. We'd sit in her mother's kitchen in Westchester and, not being accomplished cooks ourselves, we'd dive greedily into the exotic dishes prepared by her mother. My favorite was her
picadillo
dotted with sweet raisins. Cuban food was a surprise to me, a world apart from the Mexican food available in Chicago. A staple in the neighborhoods of Miami, it would take years before Cuban influences would sneek into the American food psyche.
There's a revolution brewing in the restaurant industry. Since we live on the edge of one of the largest cities in the world, we're often treated to the trends that develop in that pressure cooker of humanity. The good news is that chefs are not just for big-name urban restaurants anymore. Alot of chefs, including the one at our local Tap House Grille, have done their time in those big-name venues and have opted out for a chance to be creative on their own turf......small intimate restaurants in suburbia or small-town America.
The Mother and The Sister live in Rockford, Illinois. With a population of 150,000 it isn't exactly "small town" but it's not a huge city either. Rockford is undergoing a revitalization of the downtown area. Fashionable shops like Nest are opening with the hopes of making the area a destination spot, a place to come and spend the day, shopping and eating. The Sister's choice for lunch was a spot called Octane, a fun and funky mix of atmosphere, art and food. The first thing you notice when you walk in the front door is something I call "FRIENDLY". You're greeted....with a smile, and encouraged to sit wherever you want. The Sister and I chose a booth that was made up of two comfy blue velvet sofas facing each other over a table.
Here's the cool interior, including custom made bar stools. Love them!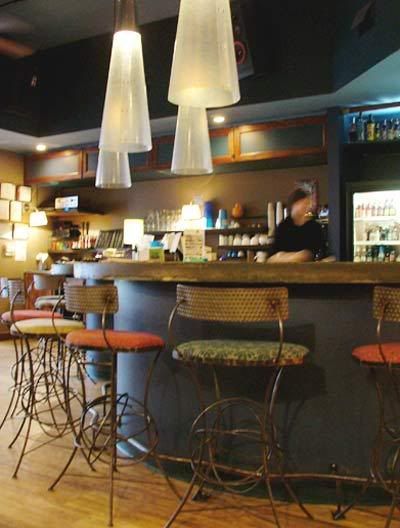 As is my custom I asked our waiter what he suggested off the lunch menu.
"The asparagus-Lemon Cavatappi is wonderful," he offered.
That sounded pretty good to me UNTIL...........I skimmed down the sandwich offerings. There it was ........

....Octane's version of the Cuban Sandwich. The thought of cavatappi quickly flew out the window as I ordered the Ricky Ricardo.
Keep in mind I'd just tasted the Buccaneer's version, named the Cubano, while sitting on Mermaid Beach in St. Croix. That was a pretty darn good sandwich. But perhaps my estimation of their version was colored by the exotic tropical locale. We were about to find out.
The Ricky Ricardo, as described on the menu, wasn't a tradtional Cuban sandwich, but that's fine with me, I'm not a purist and I've found some great versions over the years. The proof is in the pudding as they say and Chef Jason's version did not disappoint in the least. It arrived
HOT.
That's of tantamount importance. The wonderful crusty, substantial bread loses it's magic as it cools. The Cuban must be
hot!
This version did not include ham along with the pulled pork, but honestly the pork was so moist and cooked so perfectly that ham wouldn't have added anything to the mix. There was creamy melted pepperjack cheese, carmelized onions (finished off with a splash of basalmic vinegar), chunky bits of dill pickle and a dollop of delicious remoulade sauce. WOW!
Here's Chef Jason Williams.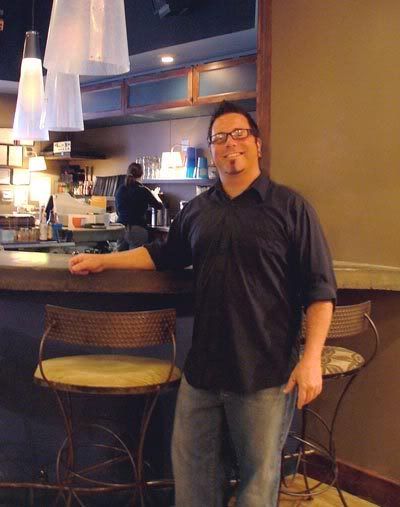 You gotta love a man who can cook.
Unfortunately my camera batteries were dead when the sandwich arrived at the table and so you're going to have to do with this shot of my leftover. It was equally yummy heated up for lunch the next day.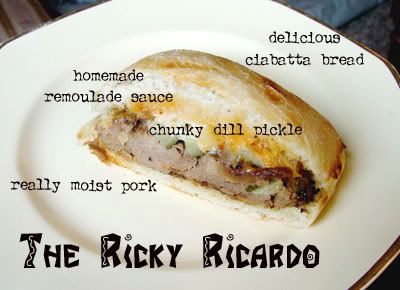 Chef Jason treated us to an Espresso Brownie. It was a moist brownie with a light and fluffy buttercream frosting topped off with chocolate covered coffee beans. The perfect ending to a great lunch.
Owners Dan & Michelle Minick have operated a restaurant in this location for 11 years. The restaurant has been re-invented several times (essential in this business) and Octane is the latest incarnation. The restaurant has a continually rotating display of art and the new showing begins, Friday April 11th. The artists currently being featured are Theresa Schwiesow and Ted Simmering.
It's a great mix of people, art and food.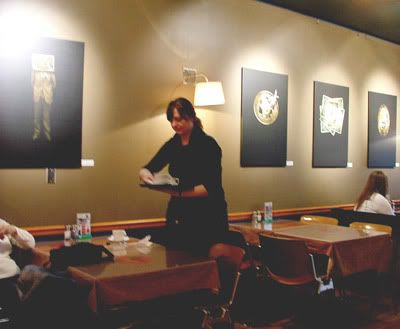 If you're in the northern Illinois area, be sure to check out: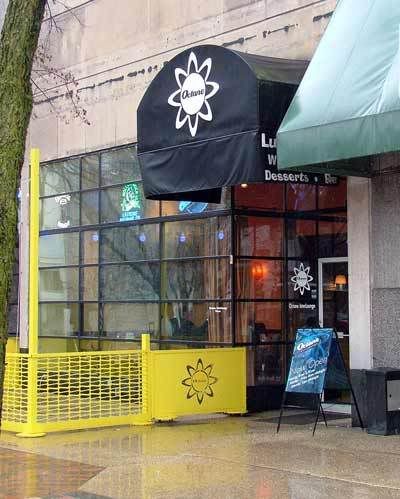 OCTANE
124 N. Main
Rockford, Illinois
815-965-4012
If you visit Octane, please tell them the Farmer's Wife sent you.
You don't need to be in northern Illinois to enjoy some great food. Check out local spots to see who's employing a chef. If not, rattle their cages and tell them you want them to ditch the bar food and offer something fresher, healthier and tastier!