You cannot know how much I am anticipating the release of Indiana Jones and the Crystal Skull.
Our friend's son worked on the movie. In fact he's worked on several projects with Spielberg and Harrison Ford.
NOTE: Don't forget to turn off the music if you're going to watch the trailer.
The Farmer and I envision ourselves as Illinois Jones and his sidekick Marion. In our quest we have flown all over the Yucatan and Central America in Cessna Caravans, some with instrumentation duct taped to the dashboard! We've ridden an ancient schoolbus on the old Pan American highway. We taken boats, all kinds of boats, including traveling at night off the coast of Belize in a tiny motorboat without any running lights. That was scary!
We've visited almost all the major Mayan temple sites in North America. There are a few more to tick off our list, but the Farmer has proclaimed that he's discovered once you've climbed one Mayan temple, you've climbed them all.
Not exactly. The Mayan temple complex at
Tikal in Guatemala
can only be described in my book as one of the Wonders of the World. There are no words to describe the scale or the beauty.
Tikal was the site of our most "Indiana" adventure. The flight from Belize was an adventure in itself. The plane flew very low, we never understood why. It got a little frightening as mountains loomed at the border with Guatemala. If we'd looked through the windshield we would have noticed the mountain pass that the pilot was aiming to pass through.
Upon landing we walked to the small terminal and were immediately surrounded by military types with bandoliers, machine guns and German Shepherds on short leashes. It's inconceivable to me that anyone would attempt to smuggle drugs into Guatemala, but you never know.
The complex at Tikal is huge and if we'd spent a week it still wouldn't have been enough time to take it all in. The Visitor's Center was a sad commentary on a endemic problem in Central America. I was a fairly new and modern looking building but as we approached it became apparent that nothing had ever been done since the day it was built. Omigosh! This was absolutely the dirtiest bathroom I've ever encountered anywhere. The outhouse at tiny Bomba Village was freshly painted and sparkling clean. I'd take that over this place any day.
Here's a scene from Bomba Village, home of the sparkling clean outhouse.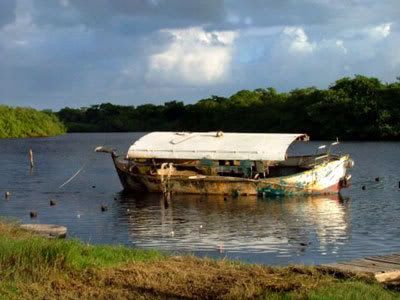 Things were better once we were on the trail back to Temple Four, which is unexcavated and the only temple you're allowed to climb. Along the way we were entertained by
Cotamundi's,
which are their version of the raccoon.
Ceiba trees
towered over us and since we were in a rainforest....it rained constantly. My camera was double bagged and we slipped along the trail. The Farmer charged ahead. Honestly, he was like a LITTLE KID. He was grinning and I swear he was pretending to be Indie, hoping for some bad guy to jump out of the jungle.
Soon we found ourselves at the base of Temple Four. Our guide pointed out the entrance tucked in the deep jungle vegetation. Fortunately you cannot see what you're in for, because if you could see the set up, you'd probably back off. There were no steps, since the temple is covered with dirt and jungle the trip to the top is on ladders. Lots of ladders, more like narrow steps but wet and slimy in the constant gentle rain. Up and up we went. Once you start there's no going back. One way up. One way down. Quite the adventure in itself.
At the top you're rewarded with perhaps the most breathtaking view you'll ever see.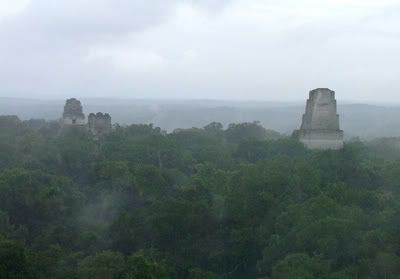 You're high above the canopy. Stop and think about how high that is. Very high. The main twin temples rise in distance, shrowded by the mist rising off the jungle. It is perhaps one of the most beautiful things I've ever seen. Some European back-packers assured us that there was something more beautiful. To see this at sunrise. I believed them but HELL NO, I wouldn't climb those ladder/steps in the dark. No way.
You can get an idea of the scale from this photo. The wooden lintels at the top of the temple are 1,600 years old!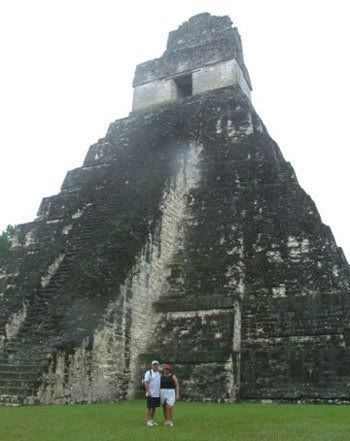 It was the adventure of a lifetime and we felt so lucky to have been able to have that experience. We've worked hard to make some dreams come true. Even if we are just pretending to be Indie and Marion.
Indie is my kind of guy, ruggedly handsome, resourceful, a smart aleck, intelligent, an ARCHAEOLOGIST! But since I can't have Indie, I'll stick with my Illinois Jones, the Farmer.
BTW, I want Karen Allen to play me in the movie version of Illinois Jones and his sidekick Marion. Karen is from
Carrollton, a small town in Illinois.