I've rarely met a man that didn't have one of these cardboard tree air fresheners hanging in his car.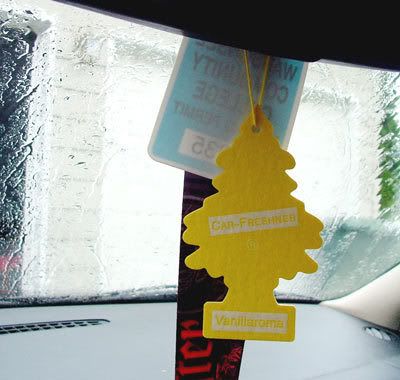 This was never appealing to me. After all, who would want something hanging in their car that reminded them of the Pine Sol that they'd just used to scrub their kitchen floor?
I've mentioned many times before that my car is ten years old. It has some loose door seals which means that during heavy rains water finds it way down on the the carpeting and we all know what that means.
Out of desperation and my intense dislike for those air freshener trees I've come up with my own solution. My first attempt was to string a length of upholstery thread through the promotion perfume ads that you find in the Sunday newspaper. If you pull the edge of the paper back the scent is revealed. This is something called "My Insolence" by Guerlain.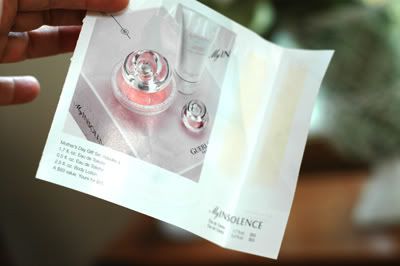 The scent didn't last for long but I felt I was on to something. The next incarnation came about after I purchased a bottle of perfume only to discover that I truly hated it after only a week. It was too late. My latest car air freshener serves two purposes. First, I keep my car smelling wonderful and feminine and secondly I get to test drive a fragrance and decide if I really like it.
Here's a freshener I made from a bookmark on card stock.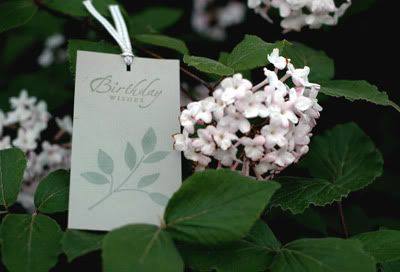 You can use a sheet of heavy weight water color paper. This is available at any store that carries art supplies. The water color paper is absorbent which makes it perfect for the task. Cut the paper into a pleasing shape or use one of the large scrapbooking punches. Decorate the edges of your shape with glitter, paint or permanent marker.
Here's a larger one that was created using water color paper, a beautiful rubber stamp and permanent dye.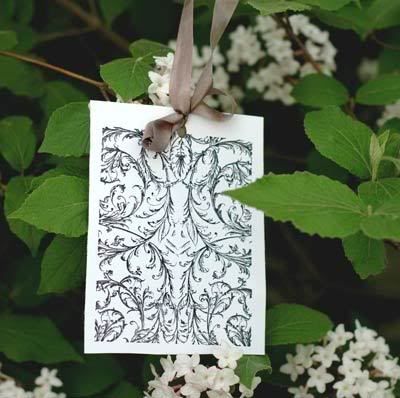 Cardboard bar coasters actually work the best. They're very absorbent and hold the perfume well, releasing it over time. This one was actually given to me by Dick Leinenkugel himself at a beer tasting event. I don't even drink beer!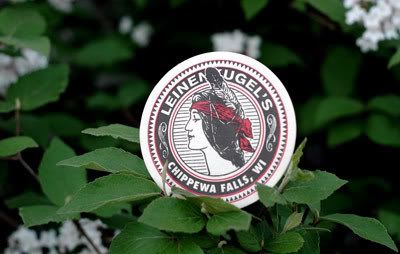 Go to the nearest cosmetic counter and spray the center of your shape liberally with your test perfume. The reason I don't use any design elements in the center is because the perfume tends to cause ink to bleed. Punch a hole and hang the freshener from your mirror. Now you have something wonderful to look at and wonderful to smell.
Another option is to use those tester strips provided at the cosmetic counter and simply punch a hole. They're not as decorative, but just as effective!
Let me know if you try this and if you've made one up send me a picture! Etsy artists feel free to run with the idea. You can create and sell the decorated fresheners without the perfume and customers add their own. Just watch, the big fragrance houses will come out with this in the next two weeks!
Thanks for visiting. I appreciate it.
NOTE: The air fresheners are photographed resting in my Korean Spice Viburnum bush. The blossoms are gorgeous but the scent is positively heavenly. We'll see more of my garden as the season progresses.