You need to pay attention to odd bits of paper that you might find lying around because it can be some of the most interesting reading you'll ever find. There's a guy who wrote an entire book called
Milk, Eggs, Vodka,
based solely on grocery lists he found abandoned in carts and lying on the floor.
Just this past week I came across two items of interest. The first is a discolored bit of index card that I found inside an old book. It reads, "Do not get wet for 1 week. Come in on X-mas eve to change dressing." This was written on 1/4 of a 3 x 5 index card, so even back then someone was saving a tree. (Although there are no points for using the term X-mas instead of Christmas. It's just plain lazy.)
The second is quite a bit more interesting and timely.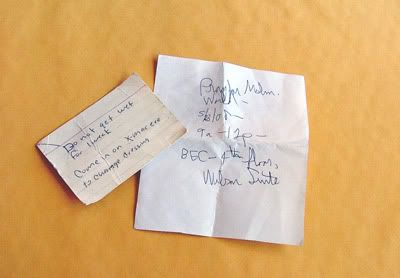 This scrap was lying on the ground outside the food store. Like I said, always pick these things up. Oh, and report your finding back to me.
It reads:
Pray for Muslim World - 5/23/2008 - 9a-12p - BEC - 4th floor, Wilson Suite.
I'm not quite sure what BEC refers to, and I don't know where the Wilson Suite is, but I don't think we need to actually be in the Wilson Suite in order to pray, do we? They also don't mention what they'll be praying for.
I think we should all go ahead and pray for the Muslim World between 9 a.m.-12 p.m on Friday, May 23rd. Perhaps we should pray that these people are praying for something good.
Yeah, let's all go ahead and do that.