First I'd like to explain the concept of "Peeps". We're all aware of the importance of family and close friends in our lives. But think about that cell phone commercial where people are being followed around by their huge network. That network is composed of all the other people we need on our team as we move through life.
It takes alot of support people (peeps) to put on a show like this. Just think about it. My life isn't just about writing witty banter and publishing at 6 a.m., I've got tractor duty and a basement to rehab. That takes peeps, and I always strive to recruit them to be actual team members. You wouldn't believe how much smoother things run when you get them on board.
So today I'm announcing that I have a new peep on my team -
a Flooring Diva.
I'm very excited about this. Everyone needs a Flooring Diva and since we won't need her services full-time we can institute a Share-A-Diva program. Think of the possibilities. Once you've got your Diva in place you can call on her if you ever have a flooring emergency or if you're just plain sick of the wall-to-wall.
You are going to be so impressed. This is a
real
Diva, not just a wannabe. How can you tell the difference? I'll show you. I arrived at the local flooring place minutes after my Diva had opened for the day. She was just getting settled at her desk, doing all the important things you need to do first thing in the morning, like turn on the computer and take the rollers out of your hair.
A real Diva is so secure in her Diva-osity that she will allow you to take her photograph....with rollers!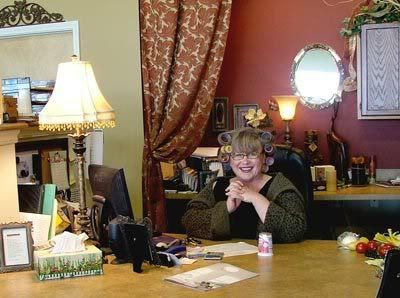 Look at her workplace!!! Who wouldn't want to come to work in the morning? This has Diva written all over it. Lush drapes, lovely lamps, framed photos, dramatic paint colors, all surrounded by carpet, tile and beautiful granite.
My Flooring Diva is Jill Amoni. As I've mentioned, there's no need to be greedy and so with my Share-A-Diva program, you too can have Jill on your team. She's helpful and patient. I first met her about 6 months ago when we were at the beginning stages of the basement rehab. She checked in every so often to see if we were still interested and she helped me pick grout.
But there's something more important going on here. It's how we do business out here in the cornfields. Jill at
Ashland Flooring
, R.F. Houtz (my tractor peep) and Leonard at the Chevy Dealer are willing to sit and chat. Chewing the fat is part and parcel of running a business out here, and I love that!! And if you're a really good customer they'll give you a hug, right Jill?
Thanks Jill for all your patience. I'm looking forward to tons of porcelain taking up residence in my garage this Friday. Here's the tile we chose. It looks like an Italian terrazzo. Each tile is different so you get an authentic mix. (That white stuff is drywall mud.)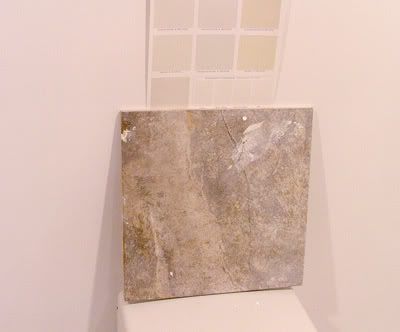 To be honest, I think the Farmer and I are very easy customers. We're too old to make the decision making process complicated. We walked in, started looking and I think this was the second tile we looked at. We liked it so there was no need to go any further and complicate our lives hunting for something that might be better. It really works for us.
If you're in the northern Illinois area you can Share-a-Diva and contact Jill, otherwise you'll need to search out a Diva in your area. I think we need to develop a network of flooring Divas all across the country. Perhaps Jill can mention that idea the next time she attends a trade conference.
NOTE: Earlier this week Jill attempted to assert that perhaps I was't actually nine miles from anything. Hmmmmm. Well, I was simply going on memory and of course that's not always reliable. But the problem is that I've ordered all kinds of promotional items (tee shirts, etc.) that state "9 miles from anything" (just in case I get famous)...so I'm sticking to it!