Have you ever been to a pig roast? We have been to lots of them. It's a great way to feed large crowds of people. We have neighbors who host a pig roast every fall.
Today I'm going to take you along to Kody's graduation party. He's the son of our friends and former business associates, Ken and Leslie. They are terrific hosts and we always have a good time at their home.
A pig roast is quite an effort. It takes planning and commitment. First of all, unless you have the equipment (it's expensive), you're going to need to rent a large roaster. Here's the one that Ken was using: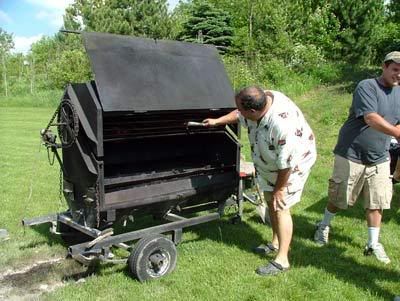 These things are very large. They're on wheels so they can be towed by a car or truck. Ken is pulling some of the meat off for a taste test. If you look closely you can see the circular wheel that turns the spit. You can also see that the pig is up high, away from the direct heat of the coals. This ensures a very slow roast.
The uncooked weight of the hog was 215 pounds!!! Most roaster spits can only hold a little over 100 lbs. but this is a special set-up, it's a very heavy duty cage that is held together with bolts. Cody is checking the pig to make sure it's done.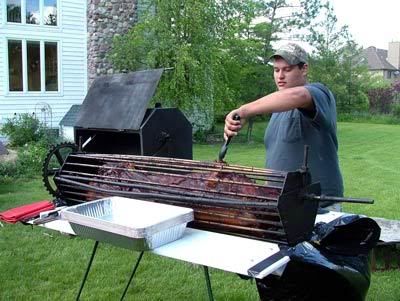 The pig normally takes at least 12 hours. It's not something you put on the fire and walk away from. It requires attention since coals need to be added as the old ones die down.
Now they'll remove the bolts and lift off the cover, revealing the roasted pig.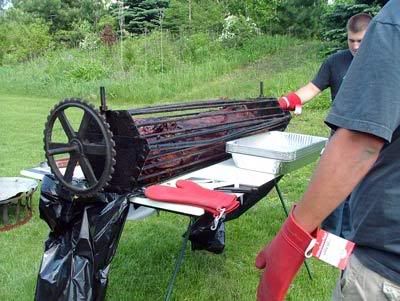 Ken dons his black plastic bag and the guys begin to process the meat. That's a special table that has a u-shaped channel in the center to hold the pig. There are flat cutting boards on each side for cutting the meat.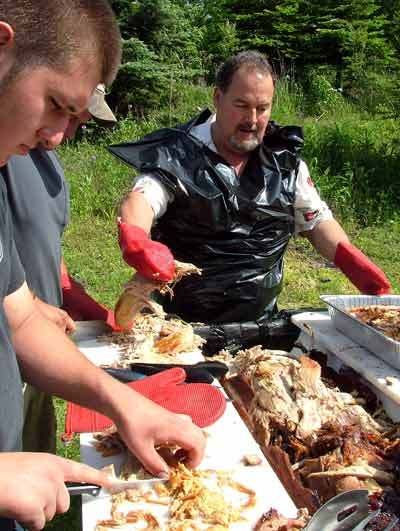 I takes quite awhile. I laughed at Ken and the boys because they'd gone out the day before to buy these silicone gloves, but forgot to remove the tags!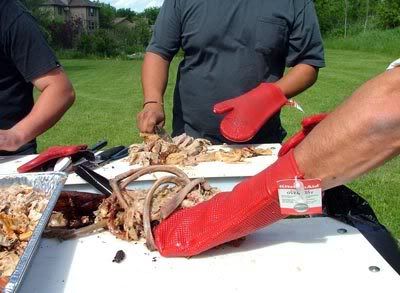 Look at this huge pan of pork. How many pans do you think were filled at the end of the processing?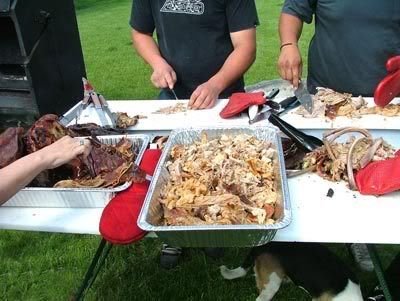 Did you guess FOUR? Yes, four large pans
totally full
. That's a lot of meat.
Guess who was under the table, waiting for something to drop?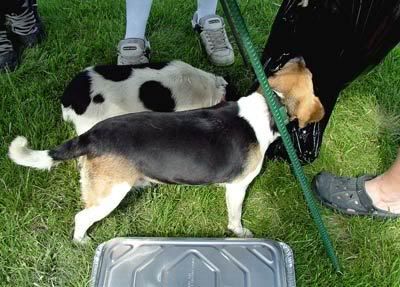 Unbelievably, the very large dog (part Pit Bull?) was not interested in this at all. I found that strange.
What was happening inside the house? The first pan of pork was ready for serving.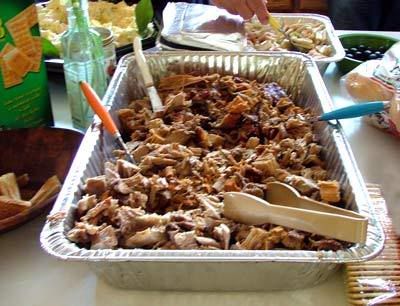 Our hostess Leslie covered the island with an enormous amount of food including deviled eggs, potato salad, pasta salad, zucchini squares, buns and a bunch of different barbecue sauces.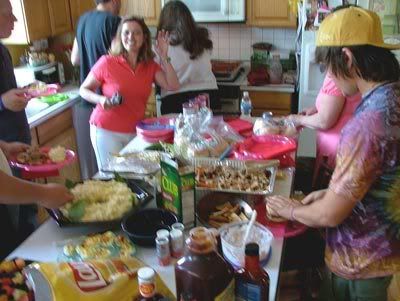 Look what came out of the oven. Next to yet another pan of pork are the baked beans! They're topped with lots of bacon, of course.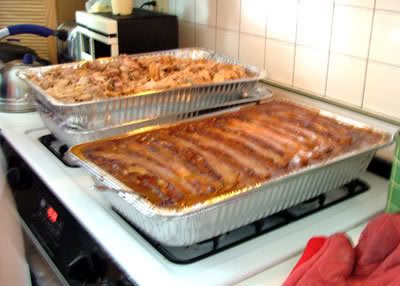 It was all unbelievably delicious. We were stuffed. What appears next but a large cake. There's Kody. He's a great kid. Pretty cute too. You gotta love a kid that will pose with his cake.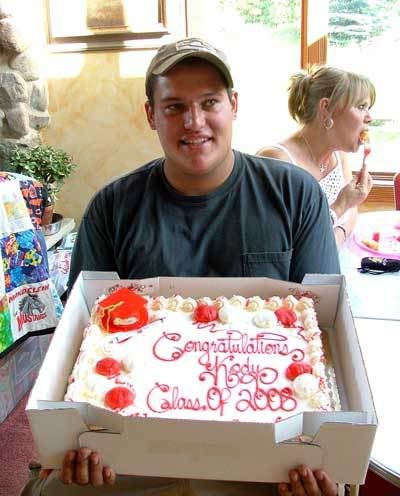 Here's a video that shows them lifting the pig out of the cooker. I'm laughing because halfway through this video I chastise the Farmer for walking in front of the camera.
"I'm making a movie here," I tell him.
AS IF I'M SPIELBERG OR SOMETHING! HA.
There are lots of pig roast videos on You Tube. This is a tradition all over the globe. Each area has a different way of cooking the pig, some bury it in the ground and some have different variations on the spit theme.
I hope you enjoyed the party. I'd love to know if you've every attend a pig roast or if you've hosted one yourself. Do you have a different tradition for serving big crowds?