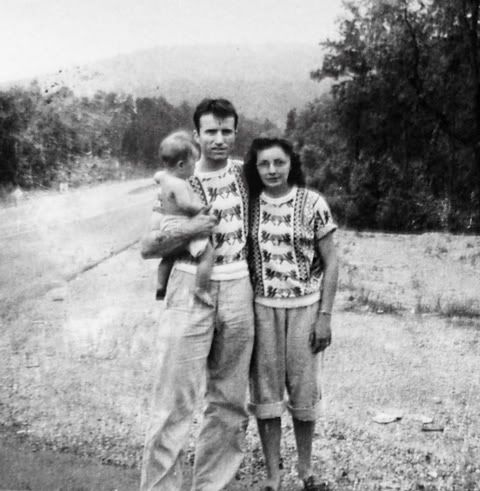 The time: Summer 1948

The place: On the road between Chicago & Westville, Florida
Here's a photo of my dad and my mom taken in 1948. Don't they look cute in their matching sweaters? My dad was 25 yrs. old in this photo and my mom was only 19. They were young and in love, both scared and excited about being new parents. That's me looking away from the camera. This was the first of many trips I would take to Tennessee and Florida.
Every summer we'd make the trek from our home in suburban Chicago. We stop off in Tennessee where my my moms relatives lived and then it was on to the Florida panhandle to visit my dads people. That's what was know as a family vacation back in the 1950's. There were no trips to Disney World or Rome. Life was simpler. There were fewer choices.
Over the years three more children would be added to the vacation photo. My dad often worked two and three jobs to support our family. The yearly vacation tradition stopped when I graduated from high school and my parents divorced.
But back when this photo was taken they were in love, had a new baby and were looking forward to the future.
My father passed away from a brain aneurysm twenty years ago. He was only 65 years old. He never got to enjoy his retirement and I've always felt sad about that.