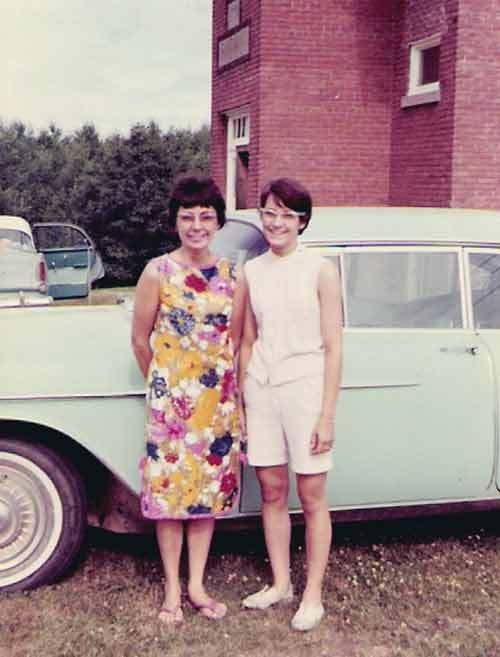 The Time: Summer 1963
The Place: Grandpa's House - Rice Lake, Wisconsin
It's Sunday, and that means another trip in the Way Back Machine.
Aren't you amazed by the detailed memories that one single photo can jog?
That's my mom on the left in the colorful cotton shift. I am wearing a colorless combination of shorts and sleeveless shirt, combined with not-so-white tennis shoes. Oh, and let's not forget the cute cat's eye glasses. Very 1963.
That's my grandpa's big Cadillac. He always drove Caddie's, the bigger the better. He would drive us up and down the hills - FAST. Fast enough to make our stomachs dip like being on a roller coaster. My step-grandmother was the tiniest little woman. She never had a driver's license. It's a good thing because she never would have been able to see over the steering wheel.
Behind us is the one room schoolhouse that my grandfather converted to a home for their retirement. It must have been a larger schoolhouse because he carved two bedrooms, a living room, kitchen and bathroom out of the space. The basement served as the garage and since my grandfather was a big fisherman he kept large tanks of minnows downstairs.
Can you imagine being a kid and having a chance to ring the school bell whenever you wished? Well, only as much as grandma could stand.
If you wanted to spend time with grandpa, you learned to fish. Plain and simple. The mosquitos in northern Wisconsin were the size of Volkswagens but we wore our repellent and swatted our way through hours of fishing. I never forgot his lesson which was to have the patience of a fisherman.
NOTE: While on the phone with my mom this afternoon, trying to discern the exact location of the old schoolhouse, my mom reminded me that my grandfather also kept a big old Buick at the farmhouse. It was his fishing car. He was mad as heck when some hunters shot the Buick, having mistakened it for a deer! There was probably alcohol involved. They also shot the neighbors cow and killed it dead!