The grouting project has whipped my creative juices (and my mind) into a pulp that's pulpier than Minute Maid. So today I thought we'd talk about family treasures, those wonderful things that are passed down in the family. It may be a beautiful family bible, antique china, jewelry or things that have only sentimental value.
Yesterday I mentioned my grandmother's artist friend Edna. She was very talented and never let the scale of a project scare her away. My grandmother purchased many of Edna's beautiful pieces including a full set of dinnerware and a punch bowl and cups. When my grandmother died these items went to my uncle and when he died I got the punch bowl set. It's one of my treasured possessions, along with my grandmother's antique cameo and her BIble with her notes in the margins.
I thought you might like to take a look at the set. Here's the punch bowl, trimmed in 14 karat gold.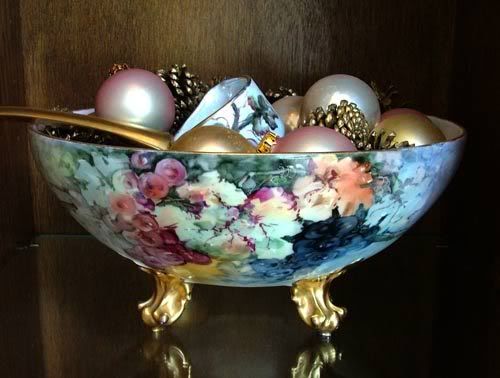 A couple of years ago for Christmas I filled it with pink and cream colored ornaments. I loved the way it looked and I left them.
A close-up of the painting.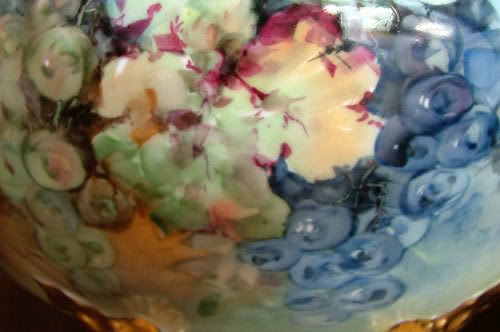 Here's the front side of a punch cup. It's painted with orange berries.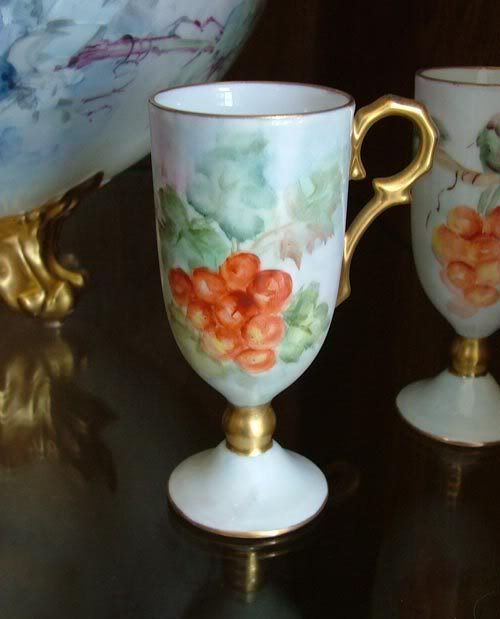 The back side is painted in a different color of berry. They're very dainty cups.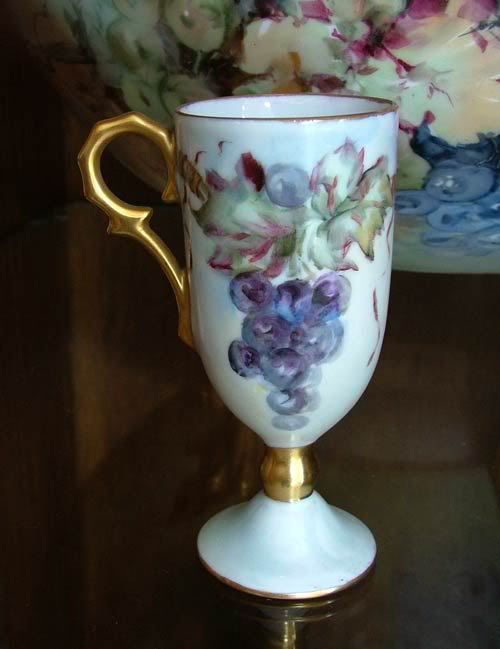 My mother took a china painting class and she said that she struggled with one small piece. The amount of work involved in this set is unbelievable. Each piece must be painted at least twice, sometimes three times. After the first firing the design all but disappears. There's a light image remaining and the artist paint again and fires again.
We all have treasures. The pioneer women carried precious cargo on the wagon trains including family chairs, china teapots and plates. They were looking for something of beauty to behold.
How about you? What's your favorite family treasure? Are there memories behind it?