On Monday evening I was working on some aprons up in my sewing room. I decided to take a break and check out my e-mails. It was about 7 p.m. when I logged on to the computer. Our in-home office is the only room in the house that faces west, and west is the direction from which all of our weather comes. Storms were rolling in from the Mississippi and one look out the window told me that something really evil was heading our way......FAST!
The dark black clouds were throwing deep rumbling thunder ahead of it and it was the deepest, darkest sound I've ever heard. It seemed to still be a distance away, but in the three minutes it took me to get upstairs it was upon us. That fast!!! The large tree at the corner of our house was literally bending in half and I was sure that the family room was in danger of being crushed.
Then the sky turned from dark blue/black to sickly greenish color. I think we all know that nothing good can come from that. Rain hit hard, but the wind was the major player in this storm.
The electricity went out the moment the storm hit. The Farmer somehow drove the gauntlet and made it home just in time to attempt to fire up the generator. Unfortunately, since we haven't started it for awhile, it simply would not fire up. Let's just say he was spewing a few choice words as he heard all the neighbors starting up their generators one at a time.
After the worst of the storm passed, neighbors walked up and down the road with flashlights making sure everybody was OK.
Out here, being without power means you're without everything, most importantly water. The water is pumped from our individual wells with electric well pumps and without electricity there are no showers, no toilets. Yep....no toilets.
The tag line on my blog reads, "Nine Miles from Anything" and yesterday morning I was 9 miles from any type of electrical power. I drove that nine miles to the nearest McDonald's (with power) and brushed my teeth, used the bathroom and grabbed breakfast and a cup of coffee.
The extent of the damage only became apparent at first light on Tuesday morning. Just before I left the house I could hear the chain saws firing up. When I returned I donned my work clothes and headed up to Betty and Ed's house where the worst damage occurred. It would be a long day.
Please come back tomorrow because you will not believe their damage and the clean up. (I'm resizing the photos).
Here's one photo. This is the first thing I saw when I arrived and the least of the damage.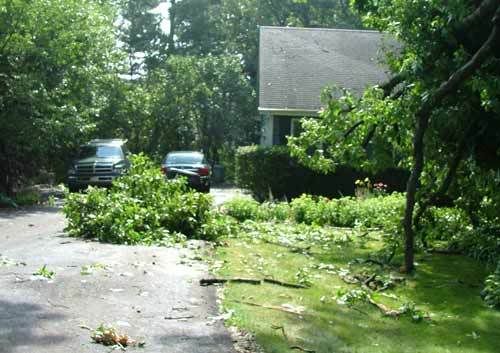 This whole incident has to be witnessed to be believed.