A package came in the mail the other day. I was very surprised because I haven't been trolling Ebay lately in search of vintage jewelry. What could it be?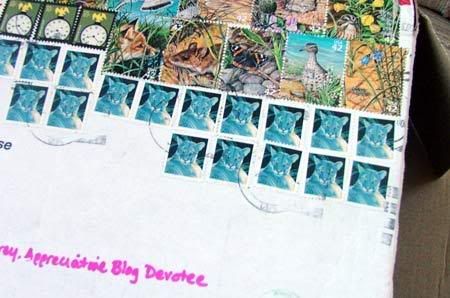 The box reveals that it's from one of my loyal readers, Nancy. She identifies herself as "Appreciative Blog Devotee". Wow, I've got a devotee. I'm happy. And since Nancy named it, she's claimed it. If you look on my sidebar you'll see that I've added her name under that title. No links to Nancy because she's blogless at the moment.
I don't know who invented bubble wrap but it was a genius. Not only does it protect items during shipping, it allows for hours of fun popping the bubbles!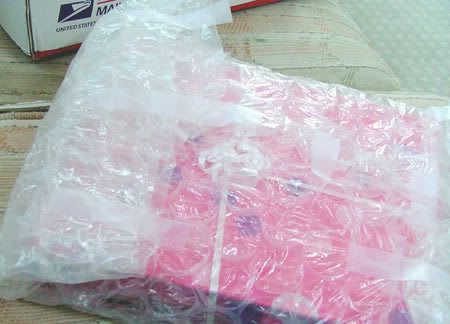 Inside there's a colorful package. It feels very heavy. I'm quite sure there are books inside. I was correct. She must have known that I just cleaned up my library and donated books, making room for new ones. The first book is called, From a Colonial Garden; Ideas, Decorations, Recipes. It's beautiful and I'm sorry that I forgot to take a photo of the cover. The photos were all taken in colonial Williamsburg. Nancy knew that I would love the part about planning weddings.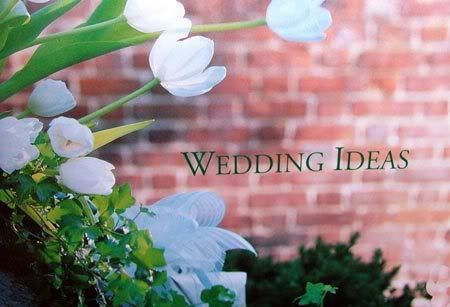 There's a section that discusses the rehearsal dinner which is our responsibility. A chef who works for the herb business has agreed to cook for the dinner and we're having it in our home. Here's a table setting idea. Isn't it beautiful?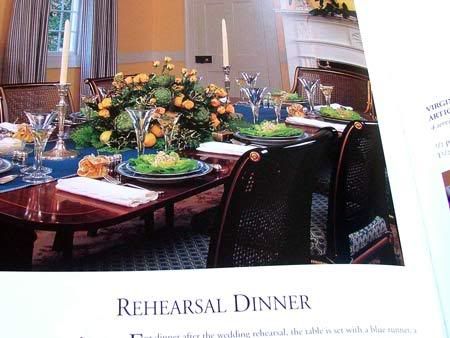 What a thoughtful gift. Thank you so much for sharing this with me Nancy.
You're asking yourself, "What does this have to do with un-varnished truth"? Well, Nancy sent me another book. This one is by Bobbi Brown called Living Beauty. There are lots of beauty tips and mini-interviews with people like Mary Steenburgen.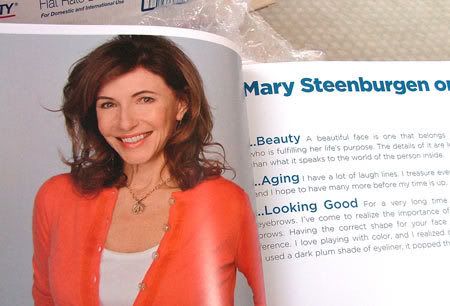 Chapter 3 is titled, "The Makeup Face-Lift, Surgery-free Ways to Wipe Away the Years". Woo Hoo, is that possible? You should see some of the photos, they're amazing.
The first thing I learned is never, EVER stand under down lighting. It creates shadows and at a certain age shadows are not your friend. If you're at a cocktail party and you notice you're standing under one of those can lights...... move away from the lighting otherwise this is what you're going to look like: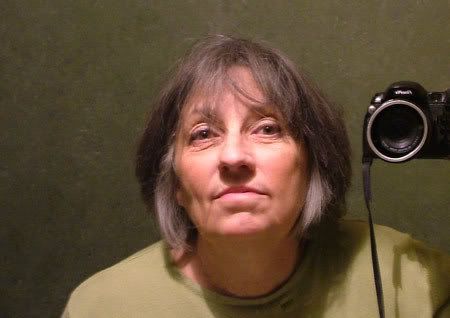 This is not good. You've now scared the daylights out of all the guests and they're all running for the bar to self-medicate.
Thirty minutes with Bobbi and I feel like a new woman.
Thanks Nancy, you made my day!!!
- - - - - - - - - - - - - - - - - - - - - - - - - - - - - - - - - - - - - - - - - - - - - - - - - - - - - - - - - - - - - - - - - -
OK, OK......you caught me. It's another damned Photoshop facelift! A girl's gotta do what a girl's gotta do!!! And now I'm going to claim the title as the only woman in the blogosphere brave enough to post a photo of themselves sans makeup!