The forecast last night called for blizzard conditions after midnight. I made plans to rise very, very early to help deal with the snow before the Farmer and our son left for work. Thankfully the blizzard failed to arrive, allowing me to sleep in. The house is incredibly cold this morning which means that the temperatures have plummeted again.
Last night was bunco night with the neighbors and talk turned to comfort foods. My neighbor Anne mentioned two of the all time favorite combinations, grilled cheese sandwich with tomato soup and homemade macaroni and cheese. I was always shocked in the past when younger co-workers would mention things like Spaghettios or Kraft macaroni and cheese as comfort foods because when I was growing up there was very little food that came out of a box.
I recently cooked a wonderful pot roast from that cache of Black Angus beef purchased from a local farmer. I love beef roasts because they allow me to make plenty of gravy and in this house gravy is a beverage!
Now don't say ewwwww, because gravy isn't bad. Since my beef is very lean there's little fat, it's beef juices thickened with corn starch.
Here's the story of how the tradition of my favorite comfort food developed. My parents would occasionally make a large beef roast for dinner. I said occasionally because with four kids our budget didn't always include a cut of meat such as a roast. Of course on the first evening we'd finish all the beef and all that was left was the savory beef gravy.
So, the next day my siblings and I would heat up the gravy for lunch and serve it over soft white bread. Wonder bread was preferred. It was simply known in our house as
bread and gravy.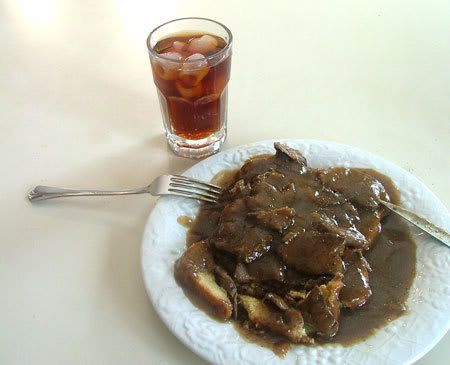 Fortunately for me on this day I had enough pot roast left to make a bread and gravy sandwich
with
beef.
Is it cold where you are? Have you resorted to your comfort food, or do you return to your comfort food when you're not feeling well?