What do you think? Doesn't he look like he's been on a bender?
Looking hung over and with a leg bandaged, the dog has obviously gotten into some kind of scrape. (The pressure bandage is actually protecting his IV line) Here's the story: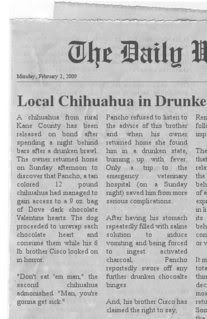 It reads:
A chihuahua from rural Kane County has been released on bond after spending a night behind bars after a drunken brawl. The owner returned home on Sunday afternoon to discover that Pancho, a tan colored 12 pound chihuahua had managed to gain access to a 9 oz. bag of Dove dark chocolate Valentine hearts. The dog proceeded to unwrap the foil off each chocolate heart and consume them while his 6 lb. brother Cisco looked on in horror.
"Don't eat 'em man," the second chihuahua admonished. "You're gonna get real sick."
Pancho refused to listen to the advice of this brother and when his owner returned home she found him in a drunken state, burning up with fever. Only a trip to the emergency veterinary hospital (on a Sunday night) saved him from more serious complications.
After having his stomach repeatedly filled with saline solution to induce vomiting and being forced to ingest activated charcoal, Pancho reportedly swore off any further drunken chocoalte binges.
And, his brother Cisco has claimed the right to say, "I told you so man."
He was behind bars - behind the bars of a kennel in the 24 hour emergency vets office. Chocolate and dogs don't mix. Dark chocolate and small dogs is a potentially deadly combination. It was lucky for us that we have an emergency vet nearby and luckier still that our 6 pound chihuahua didn't join in in the chocolate pig-out because it would have probably been lethal for him.
Valentines Day is coming up. Remember to keep the chocolates in a location that even a Houdini dog won't be able to access.
I'm exhausted. The dogs are resting comfortably and now it's my turn.
NOTE: It's not a real newspaper story, although on a slow news day in our community it just might be! This is the result of something very cool called the
NEWSPAPER GENERATOR.
Try it.