As we've discussed in the last few days this has been a very long winter. A week on a cruise ship didn't seem to do much to dissipate the extreme sense of cabin fever I've been feeling. I'm not working outside the home and that amplifies the feeling that the walls are closing in on me.
This leads to wanderlust. I know I can't be the only person who longs to simply jump in the car and get outta Dodge. I'm eyeing the back of my Equinox as a spot for a memory foam mattress and pillows for sleeping. I've taken to reading blogs written by "full-timers" which is the RV term for people who live on the road full-time. I love to follow the adventures of
Joy and Phil
as they travel across the country.
My mom and stepdad lived in a very small fifth wheel for over three years. Those walls started to close in on my mom after awhile and it's true that cabin fever can be even worse in an RV. But I'd love to just hit the road for awhile.
The Farmer and I are not yet retired and these kinds of thoughts are just dreams but dreaming is fun and free! It's an exercise in "what if". What if we drove out to the Flint Hills and stopped for pie at a roadside diner? What if we drove to a place where we could camp on the beach? It's free entertainment that's for sure.
One day I was driving through Big Rock and spotted this adorable teardrop trailer at the RV dealership.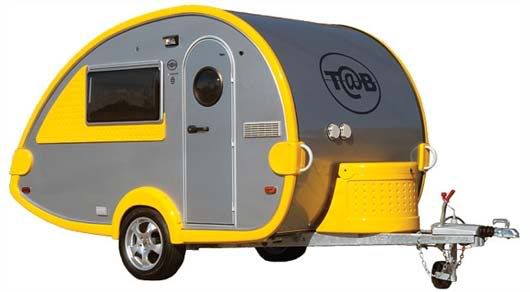 T@B Teardrop Travel Trailer
It's small but easily towed and can be moved into position by two people using handles on the front. There's a small kitchenette inside and a seating area that transforms into a queen size bed. No bathroom though. You'd need to use the campground facilities.
But still, it's so stinking cute.
On my way to the doctor's office the other day I spotted this vintage motorhome.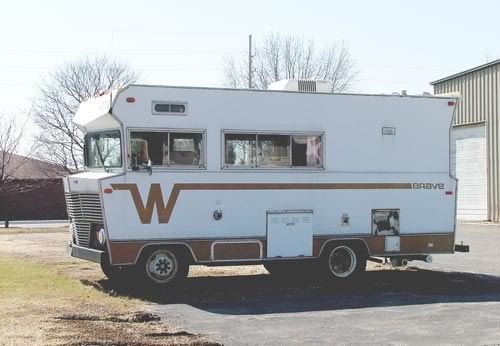 It's really small and old (like me).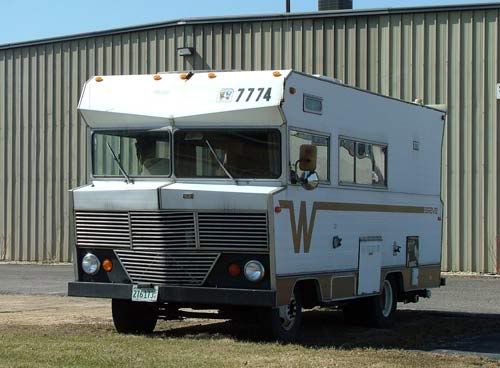 It looks like a cartoon version of a motorhome. When I looked closer at the next picture I noticed there's a ladder leading up to the roof. Do you think you can sunbathe up there?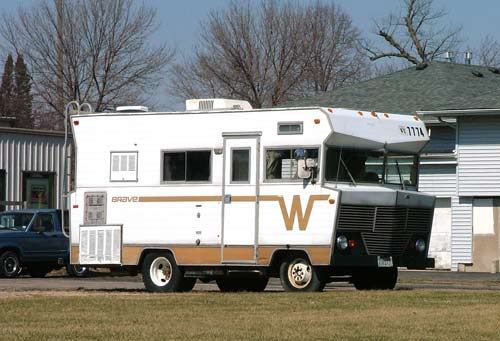 My imagination worked overtime on this one. I dreamed of red gingham curtains on the windows, perhaps with white pom-pom fringe. The small kitchen cabinet would be filled with colorful Melmac dishes and I'd wear rhinestone encrusted cat's eye sunglasses while driving off into the sunset.
Crazy, huh? It's just fun to imagine different scenarios. It helps me make it through a day when the most exciting thing on my agenda is doing a load of towels.
How about you? Have you ever wanted to just hit the road? Where would you go? Would it be in a luxury motorcoach or something cute and funky?