there's a party going on.
These pictures were taken before the guests arrived. Afterwards I was running around like a nut and didn't get anymore pictures. That's OK because the party animals need to remain anonymous to protect their reputations. Besides, we wouldn't want their kids to know that their parents actually know how to have fun!
Just to the right of the front door is the living room where we had a table set up with the Hurricane glasses and ice.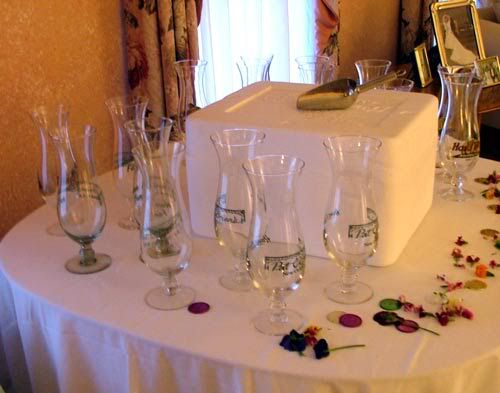 Next to that is the liquid Hurricane. It sneaks up on you. I found this drink dispenser on sale at Target after Christmas one year. Unfortunately, it looks better than it works. The liquid comes out at barely a dribble.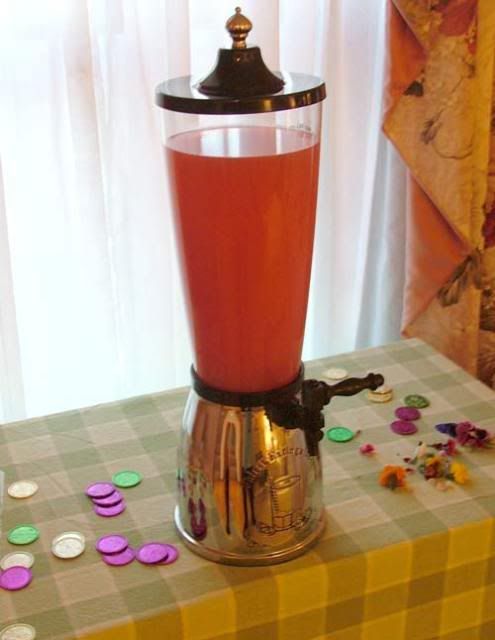 I found these cute and colorful Mardi Gras mask decorations at the local party store. We hung them in the doorways and over the table.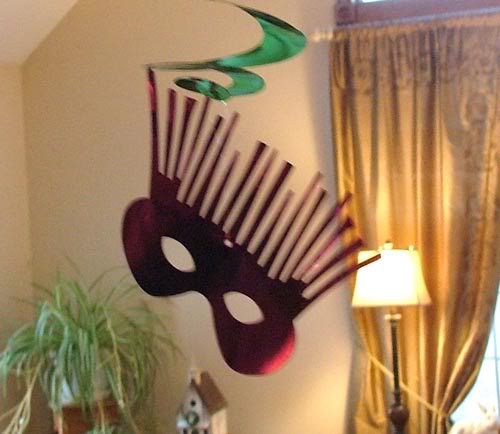 We lit the voodoo candle. Anyone who has visited the French Quarter knows about the voodoo shops tucked on the side streets.
We place two banquet tables in our family room so that everyone can eat together.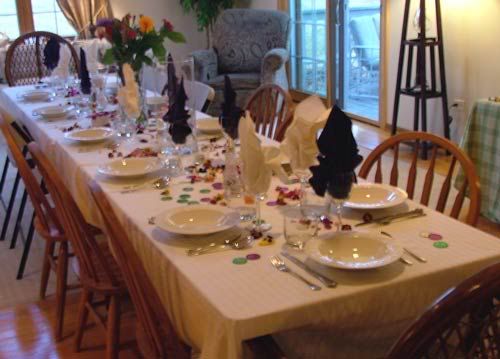 I have a great book on napkin folding and this is my favorite - the Fleur de Lis, which is tucked inside of the wine glass. I'll have to do a video to show you how.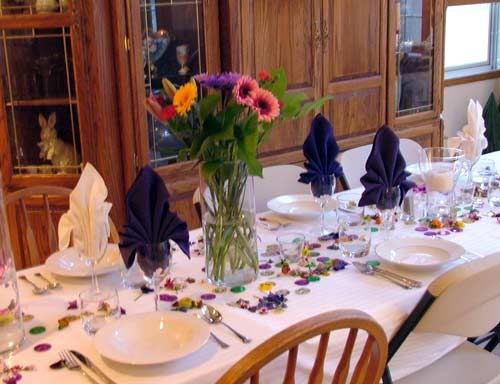 Colorful flowers from the local grocery store. On the table I've scattered Mardi Gras coins. The Farmer also brought home some edible flowers. Since I wasn't serving a salad I simply spread them on the table also.
Small orchids floating in water.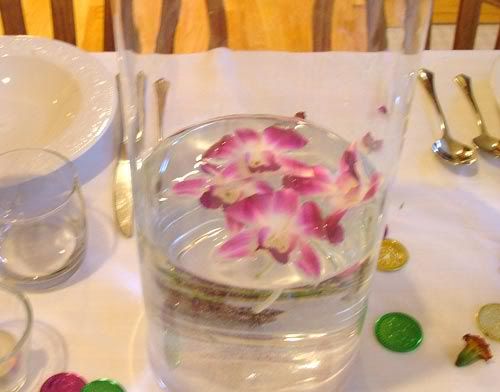 My neighbor Jacki and I agreed that we'd both love to have a job creating tablescapes. I'd love nothing more than to set tables and decorate them especially if I could have an unlimited budget.
Menu
File Gumbo
Shrimp Stew
Baby Eggplant Pirogues
Cajun Pasta
Grilled Red, Yellow & Orange Peppers
Andouille Sausage Kebabs
Chicken Kebabs
Shrimp Kebabs
Remoulade Sauce
and of course, Pecan Bread Pudding with Cream Anglaise
Thanks for stopping by today!