We're going to continue our visit to the sleepy little Mexican village of Yelapa. It's a 45 minute boat trip down the coast from Puerto Vallarta.
The waterfall is at the top edge of the village.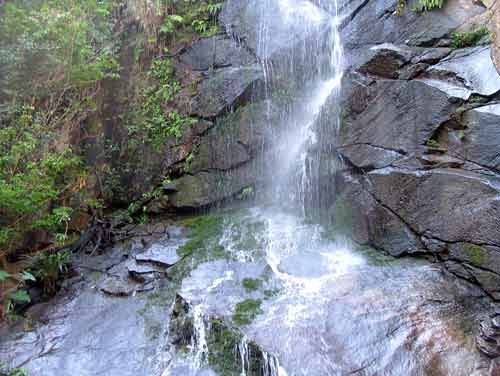 After spending some time in the cool waterfall area we walk down, down, down into the winding streets of the village. Electricity first came to the village 9 years ago and as you can see there are lines everywhere!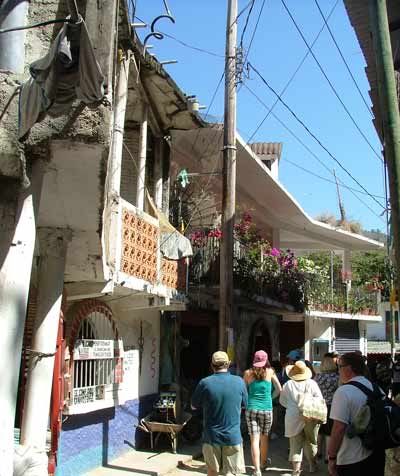 That's the Farmer on the far right, with his Indiana Jones backpack carrying all the essential items for a proper adventure. That includes water. When we were flying in a tiny plane from Belize to Guatemala, the pilot stopped to pick up a 20 gallon container of water. He said we'd need it if we crash landed in the jungle!!
When we were in Mazatlan we visited a stunningly beautiful Spanish colonial cathedral. Here's the simple beauty of this village's small church. Wooden benches and simple crosses enhances it's beauty.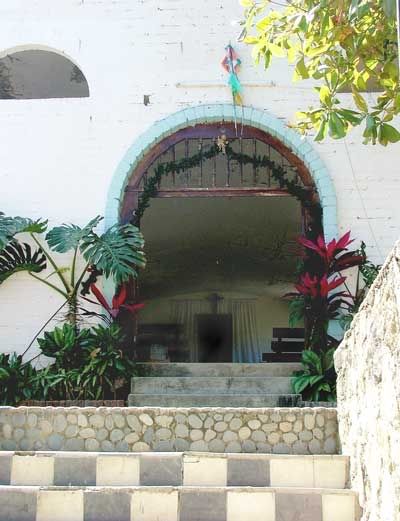 Since there are no roads, there are no cars or trucks. I did see one ATV but that was it. All hauling is done the low tech way.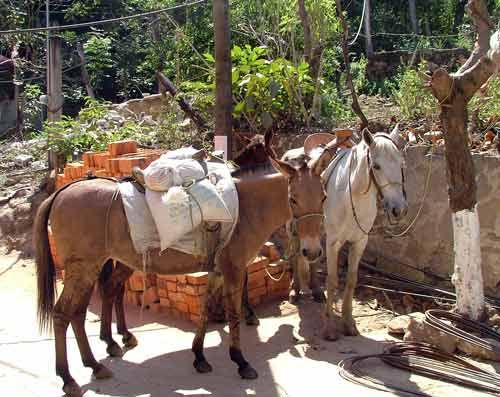 These guys were loaded up with sand bags down on the beach and they're headed to a construction project somewhere on the hillside.
I was shocked to see this flyer taped to a pole. I don't read Spanish but the photographs look all the world like quilts to me. When I got home and translated the text I discovered that it was announcing a quilting class. HUH? It asked that you bring your sewing machine with you. I was surprised to think that there was even one machine in this place and equally astounded that there were enough to have a class. I suppose they get their fabric in Puerto Vallarta or maybe on the internet. There are internet cafe's in the village. Progress!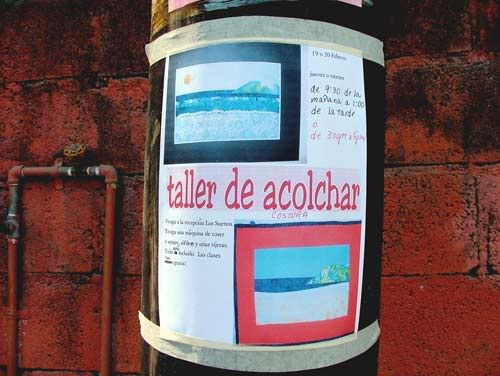 All the children in the village are required to attend school. This is a colorful after-school facility where they can engage in creative arts activities. They also teach about green issues, recycling and so forth. There are recycling bags at key points all over the village. This is tranferred by boat back to Puerto Vallarta.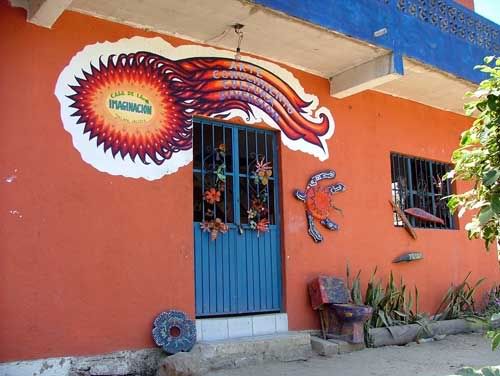 When we reach the highest point in the village we're rewarded with a beautiful view of the beach area.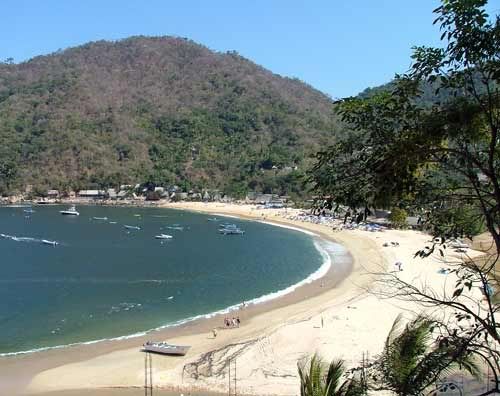 We were told that basic rustic palapas along the beach rent for about $25 a night. The Farmer and I have vowed to return someday and sleep under those thatch roofs. They don't leak!
When the boat pulled up to the dock earlier in the day, our tour guide David told us that when we arrived at the beach the pie ladies would arrive. PIE LADIES??? There are pie ladies in Yelapa??? Who could ever guess that I would travel 4,000 miles to find some pie! Here's one of the pie ladies with her goodies.That's someone else's hand reaching into the wallet, not the Farmer. Everyone knows that Indiana Jones would never carry a wallet.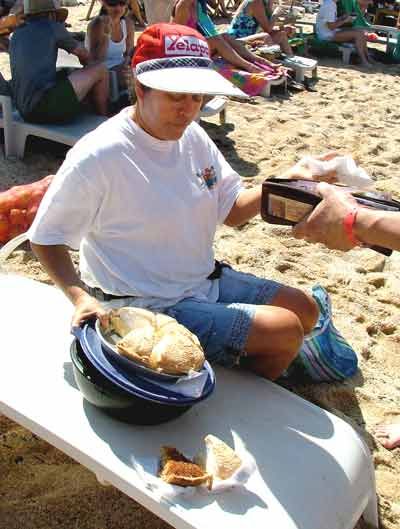 They time their pie baking perfectly to coincide with the arrival of the tour boat. Their pies were hot out of the oven. It was right here on this beach that I decided that my quest for the perfect piece of pie would now fall into two categories - Professional and Amateur. Hoosier Mama currently holds the professional title but these unnamed pie ladies in Yelapa hold the title of Best Amateur Pie Bakers.
We bought two slice, one cheese and one banana. If I remember correctly they were about $2.50 per slice. If we'd had more time on the beach I would have tried them all. Seriously.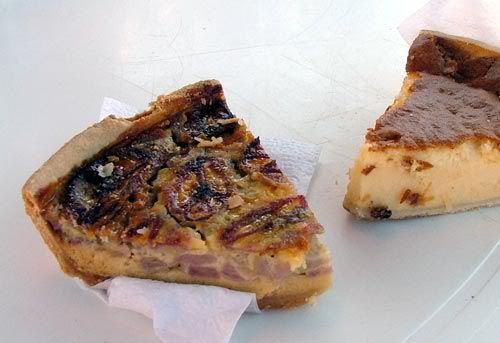 The crusts were thin and amazingly crisp. The cheese pie was not a custard and not a traditional cheesecake. It was delicious and mild in flavor. We tasted both and the Farmer declared the cheese pie was his. He wasn't crazy about the banana. I loved it. These pies were both very firm in texture and you could hold them and eat, not needing a fork.
Beer and pie? Together?? You bet. I am not a beer drinker but this Pacifico beer was good.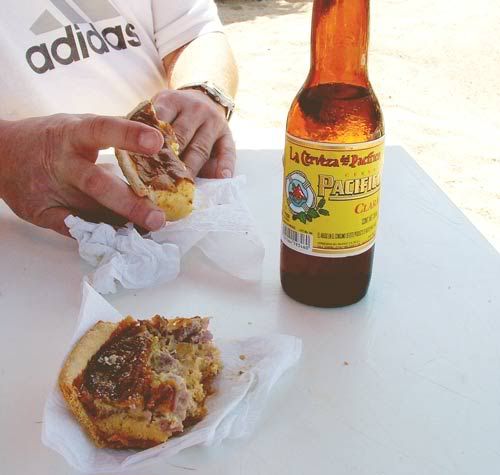 The bananas were not the type we eat in the U.S. I'm guessing they're a type of plantain. If you look you'll see that when they're baked they turn a pink color. They're still quite firm after being baked. Our bananas would turn to mush. I've to go back to Yelapa if only for some pie and beer.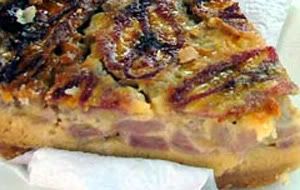 After stuffing ourselves and lying in the sun it's time to return to civilization.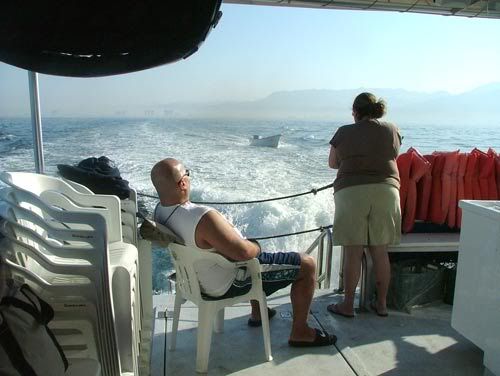 Some nice people we met on the boat.
Thanks for coming along to Yelapa, Mexico. If you're looking for a rustic vacation spot that's off the beaten track, this might be for you. And who knows, you might run into a farmer and his wife.