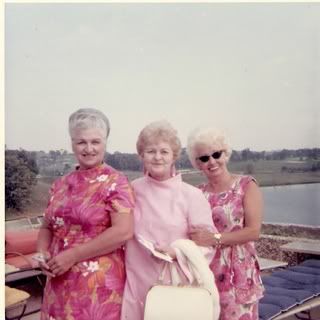 Martha Z., my Grandmother, Edna Y.
The time: Late 1960's
The place: Playboy Resort, Lake Geneva, Wisconsin
My grandmother and her two friends were having a girl's weekend. They often went to nightclubs together to see their favorite musicians. I was pretty surprised that the back of the photo revealed the location - the now-defunct Playboy Club Resort in Lake Geneva, Wisconsin.
It was a nice hotel complex and entertainment venue and the ladies were probably their to see someone like Tony Bennett. Years previous they would travel into Chicago to the Chez Paree nightclub and enjoy an evening in their finest party clothes. Once they saw Nat King Cole and my grandmother sweet talked a member of the staff to let her go backstage where she met Nat, his mother and his wife.
On this sunny day they were just enjoying each other's company and looking forward to a show.
NOTE: The winner of the apron giveaway will be announced tomorrow morning at the Monday Morning Staff Meeting. It's OK to attend in your pajamas
.