A recent estate sale netted me this lovely kitchen gadget.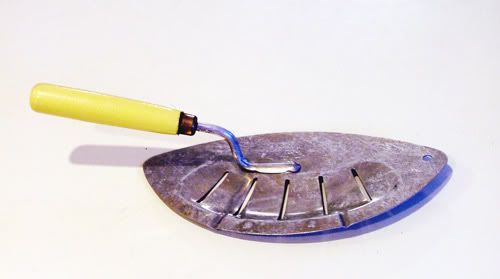 Although I have a nice vintage white enamel colander, I love this gadget that you position on the edge of a pot. This allows you to drain the liquid, keeping the food in the pan.
Here's another gadget in my kitchen.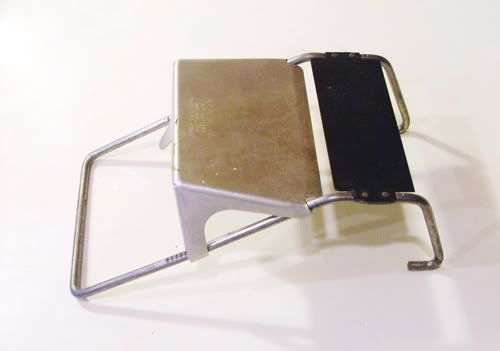 It's a very inexpensive mandoline that the Other Mother has owned forever. She probably paid under $5 for it and until recently it was stored in the original box. There are no bells and whistles on this model but I'll guarantee you that blade is razor sharp. Don't ask how I know this.
I quick check at the dreamy high-end kitchen shop reveals that the Mercedes of Mandolines is $169.95! I certainly don't have that kind of coin but honestly I prefer the old school basic tools.
Here's a favorite item that resides in my gadget drawer.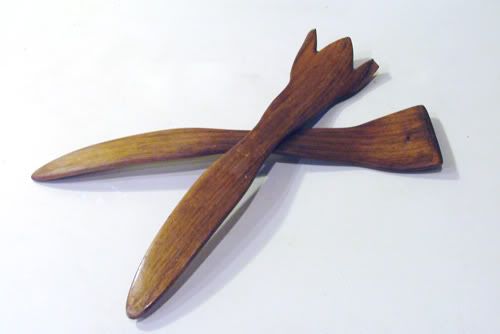 The Farmer made these salad tongs in 8th shop class. This was back before middle school were created, back in prehistoric days.
Occasionally I'll run a gadget that is a mystery to me. I'm left standing in the yard sale asking myself, "What in the heck is this for?"
How about you? Are you high tech or old school when it comes to kitchen gadgets?