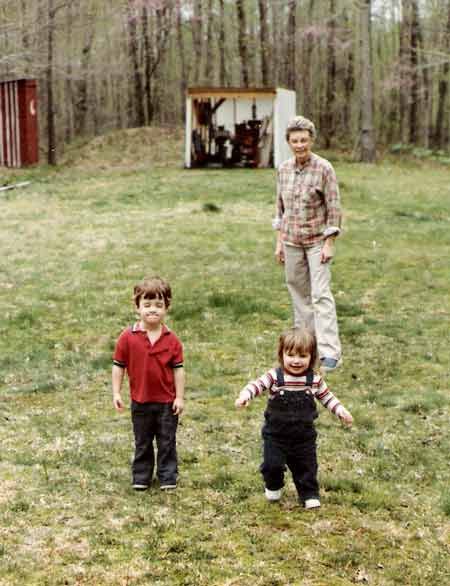 The time: Summer, 1984
The place: Grandma's House, Palmyra, Tennessee
It's Sunday, which means it's time for another trip in the Way Back Machine.
This photo was taken in my mother's back yard in Palmyra, Tennessee. When I say this is grandma's house, it has a double meaning. The little country home was built by my grandmother for her retirement. After her death my mom and stepfather moved in. For my children it was both grandma and great-grandma's place. It's still owned by family members, but rented out for the time being.
In the back there's a shed, filled with stuff that a shed accumulates. There's a contentious lawn mower in there somewhere. It was the focus of an ongoing feud between my Grandma Martha and her sister. I never fully understood the argument but as with anything, it's never about what you think it's about.
Off to the left you'll see another structure. It's the outhouse! The house was built as money was available and the bathroom plumbing was the last to be installed. The outhouse served as the "facilities" for quite awhile. My grandmother was into angels and all kinds of flowery decor, so the interior of that outhouse was decoupaged with angels and cherubim. It was quite a sight.
Behind the outhouse was the "tip". Those of you in the south may have some idea what that is. There's no garbage pickup out in the sticks and to this day I believe you have to load up and drive your garbage to a spot where the large dumpsters are located. Back in the day people burned the paper items and everything else went over the hill into the tip. Many years in the future I envision young archaeologists digging up my grandmother's tip in search of evidence of our lifestyle.
I was always amazed at the wide range of facial expressions my children were able to come up with. My daughter is just SO HAPPY to be walking. She was a very anxious and unhappy baby because she knew in her heart of hearts that she should be able to do something besides sit in a high chair or swing. She was literally screaming to get out into the world. It continues to this day, she's an energetic go-getter.
My son was always the artistic, sensitive one. Today he works with disabled young adults, mostly Cerebral Palsy patients. And..... hooray.... he's finally been accepted to the nursing program at the local college, after a 2 year waiting list.
I remember at the time this photo was taken I had no idea what direction their lives would take.