I know, I know. Friday is our normal day for field trips but I believe in mixing it up and besides, last Friday we were talking about foodie stuff.
Do you remember our recent field trip to the Heritage Gardens in Belvidere, Illinois? Well, we've been invited back for dinner! Yes, dinner in the garden area. This is the first year for the event and the planners decided to plan a menu around the ethnic gardens; German, Norwegian, Potawatomie, Yankee and Scottish. I thought it was a great concept. They enlisted the help of local chefs to prepare the different dishes. What a great chance to showcase their skills.
The dinner in being held in the log sided pavilion off the pathway to the gardens and cabins.
People start arriving. There will be around 50 guests.
Immediately the guests are commenting on the fact that the picnic tables are covered with white tablecloths. Isn't it lovely with the lush greenery in the background?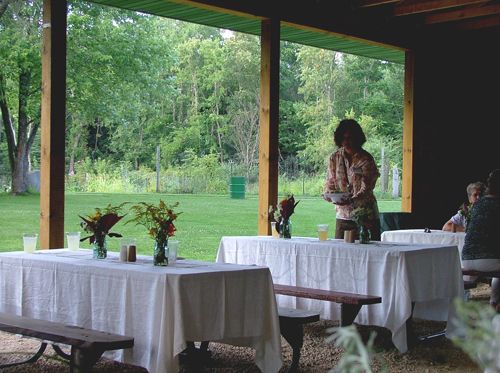 Here's the Farmer. Doesn't he look like little boy lost? He's just had a hard day at a golf outing and decides to stake a claim on a table for us. I hope it will fit all of us.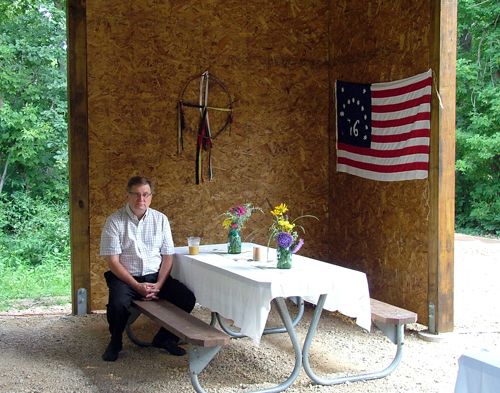 The tables are decorated with beautiful, natural looking bouquets in blue Mason jars. I love this. It's perfectly midwestern.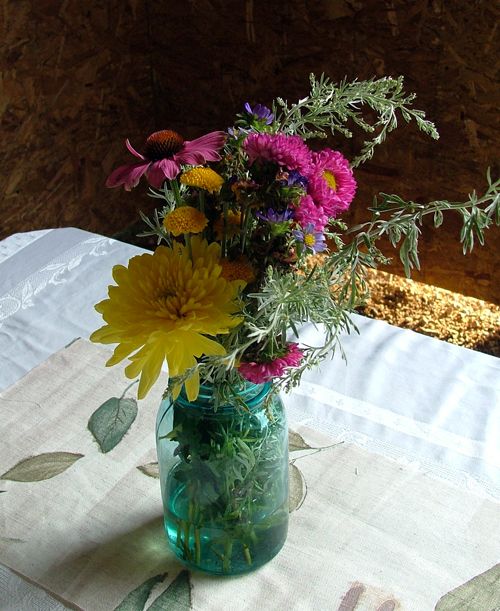 Here's my sister Pam and her husband Mike, tending to last minute details in the utility building that is serving as the command center for the dinner.
When you are responsible for setting up a dinner of this nature it's a good idea to bring mom along. She can help whip things into shape.
It's incredible how much planning and work goes into such an event. There was lemonade, iced tea and punch but this was my favorite. What a great idea.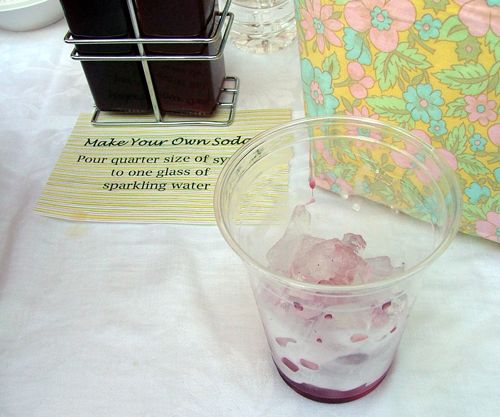 You can make you own flavored soda. They've provided two types of fruit syrup, blueberry and raspberry. Put a small amount in the bottom and fill the glass with sparkling water! Isn't that clever?
Dinner is served. Everyone line up.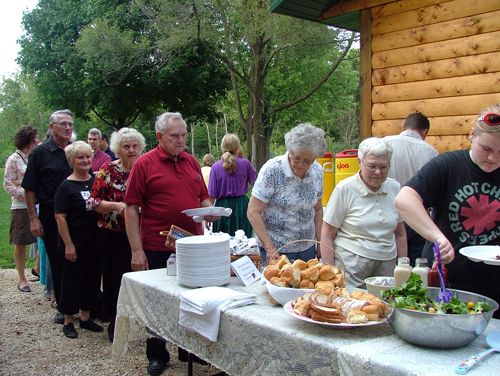 Take a plate and dig in. It's all you care to eat. Come back for seconds.
See that small wicker picnic basket on the table? It hold the utensils, wrapped in linen napkins with a piece of decorative paper holding it together. People noticed the attention to detail.
There's fresh bread and REAL butter.
The Potawatomie Indian garden is represented with this offering from Hungry i Catering. This is a feast for the eyes. A salad with potatoes, corn, cherry tomatoes and green beans. It's tossed with some herbs and perhaps a little oil. Nothing heavy to overpower these beautiful vegetables.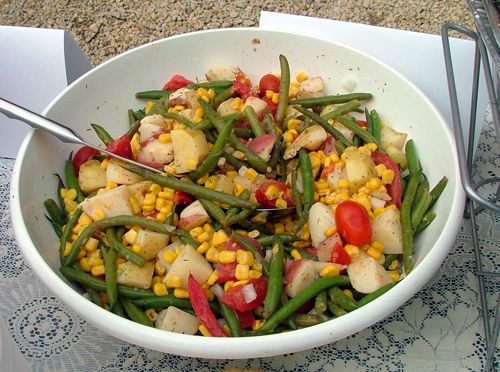 There's a salad of mixed greens with several types of tomatoes. The salad dressings are in beautiful crystal bottles nestled in a wire holder.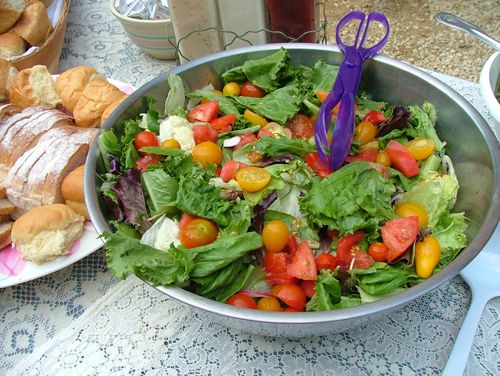 Did I mention the beautiful flowers?
The Brick Cafe brought a family recipe, leek soup, representing the German Garden.
It's a delicious mixture of leeks, potatoes, pork and other ingredients.
The Farmer makes short work of his portion.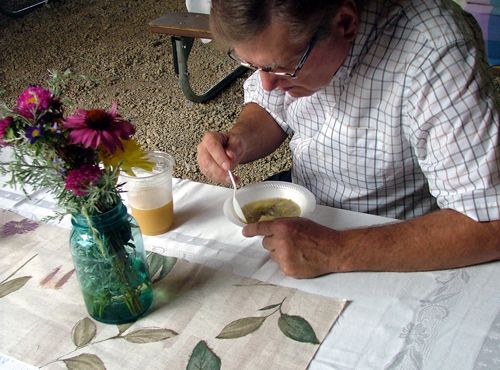 A woman representing the Sons of Norway Valhall Lodge made a fruit soup. It was served hot and is something I've never had before. Traditionally it's made from dried fruit but this was made from fresh strawberries and rhubarb. Simply delicious. It was the Norwegian course..... of course!!
ABC Catering represented the Yankee garden with........(be still my heart), homemade chicken pot pie.
I don't think this picture looks like much but trust me, this was awesome! This was the awesomest chicken pot pie I've ever eaten. Beautiful rich sauce, nice vegetables, chunks of chicken and the crust was to die for!
Look! At the end of the evening there's very little left. I wanted to lick the pan.
Look at this colorful and fresh meal.
Did you save room for dessert? I hope so, because there's a sundae bar where you can build your own sundae. Vanilla ice cream, chocolate fudge, berry sauce and butterscotch.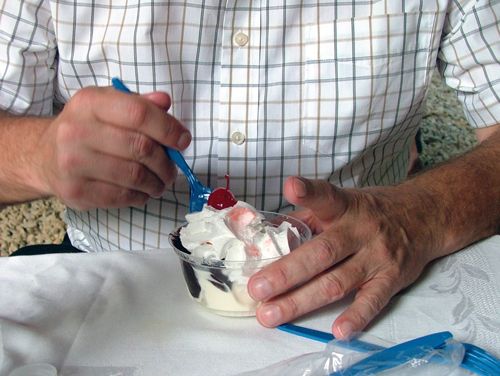 Who's left? The Scottish, of course. Thankfully for us the Heritage Gardens have been lucky enough to partner with Walkers Shortbread to sponsor the Scottish cabin. They have provided packages of the shortbread cookies.
Lucky for us too, because if they didn't have the shortbread to serve we might be eating haggis! BLECCCHHHH.
I want to thank you for coming along on this lovely evening dinner. I hope you enjoyed yourselves!
- - - - - - - - - - - - - - - - - - - - - - - - - - - - - - - - - - - - - - - - - - - - - - - - - - - - - - - - -
There's always a giveaway in conjunction with the field trips. This week I'm giving away a nice set of notecards featuring artwork of the cabins and scenes from the Garden's yearly festival. Please leave a message and I'll put your name in the hat.
I want to thank each and every one of you for taking time out of your busy day to visit here .... At Home. I apologize that lately I haven't had much time to acknowledge your comments. The sewing room beckons.