My grandfather would live with us each summer during our childhood, trading the heat and humidity of rural Tennessee for the heat and humidity of suburban Chicago.
He would spend the entire summer sitting in a green metal chair in the backyard, reading dime novels (all westerns) and chewing tobacco. To my knowledge, he never owned a car or held a steady job. He was much older when my mother was born, already the father of grown children and grandchildren. I always heard him described as an itinerate carpenter. A modern-day Joseph perhaps?
But, he could read. Could he read! In my mind he was one of the first speed readers. I'd be in the air conditioned house attempting to plow through a Nancy Drew mystery and he'd be finishing a western novel each and every day! I'm not talking thin volumes either. Of course, he didn't do anything else but read so perhaps it wasn't a stretch.
l always remember a tradition of reading in our house. My mother read the latest best sellers, My Brother's Keeper comes to mind. She had my father build a bookcase in the living room that she filled with volumes and volumes of Reader's Digest books. My father usually held down two or three jobs which meant reading was a luxury for him. In fact, I can't remember my father ever reading a book for pleasure.
We discussed the habit of having more than one book going at the same time, usually in different areas of the house. In summer reading is slowed to a crawl as fair weather tasks eat away at the time alloted for reading. Unlike our grandfather, we all seem to be extremely busy and motivated.
When winter comes the load of outdoor tasks is lifted and the level of reading shoots up, becoming voracious at times. It feels like I'm trying to make up for lost time.
This fall is no exception and I've plowed headlong into a stack of books.
Some were cracked open for the first time and some had been started at some point during the summer and left with a marker to hold the spot where I left off. Here's the stack of books that I've torn through since the weather changed.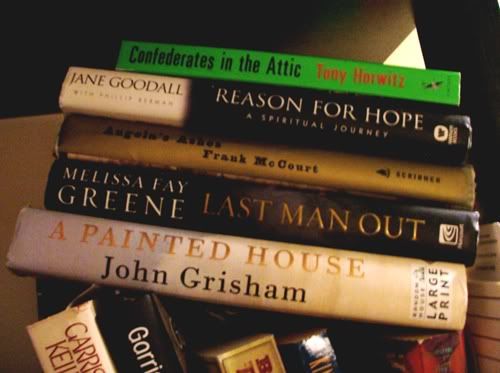 I gave fiction another chance and was disappointed.
A Painted House
by John Grisham
An easy read, due in part to the fact that it's a large print edition. Senior citizen variety. As I neared the end of the 562 page book I began an internal conversation.
"Certainly he's going to tie this story up into some kind of message, or at least a sensible conclusion."
I was wrong. The book just ended, leaving me floating in expectations.
Last Man Out
by Melissa Fay Greene
A gritty look at the Springhill mine disaster of 1958. The mine suffered a "bump" (underground earthquake) and miners were killed or trapped. The story is based on eyewitness accounts and psychologists studies of the rescue operation and the aftermath.
Angela's Ashes
by Frank McCourt.
What can I say? It was a Pulitzer Prize winner. I don't get to vote for that award. Frank's father is drunk, again...... they have nothing to eat, again...... his mother has lost another child, again. Frank has miraculous survived that childhood to write about it. Depressing. I knew impoversihed children growing up, sons and daughters of alcoholic fathers
and
mothers. I'm not quite sure why anyone would want to revisit these scenes unless it's to exorcise demons.

Reason for Hope
by Jane Goodall.
This woman was one of the science superstars in the 1970's along with Jacques Cousteau and Carl Sagan. I loved her TV series and her book explains how she landed in the position of being the world's expert on chimpanzees. It's interesting to note that she takes exception with the reductionist tendency of science, the thought that everything can be reduced and explained by it's lowest common denominator, robbing us of mystery and wonder. Her writing makes you feel like you're in the room having a conversation. Unfortunately the end of the book degenerates into a Kumbaya-fest.
Confederates in the Attic, Dispatches from the Unfinished Civil War
by Tony Horwitz.
What a strange premise for a book. Tony Horwitz is the great-grandson of a jew who fled Czarist Russia. After returning to the U.S. after nine years abroad he becomes involved with hardcore Civil War re-enactors, travels across ten states to historical battlegrounds and writes a book about his adventures. It's interesting, funny, enlightening and informative.
I can hardly slog through a page of this one: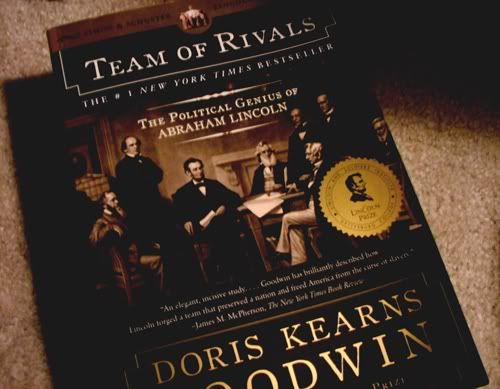 Doris Kearns Goodwin is an expert but this book is impenetrable. Are you interested in listening in on every conversation Abraham Lincoln ever held with these men? Are you interested in every conversation his rivals ever engaged in? Neither am I.
Here are the two books I am currently leap-frogging.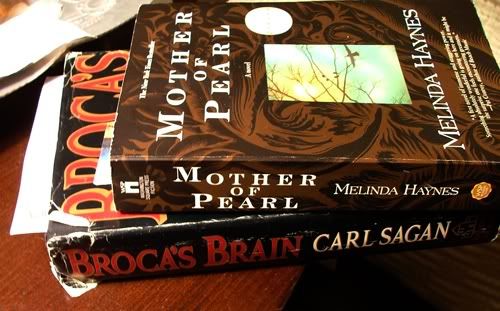 Broca's Brain
by Carl Sagan
The world of science has turned itself inside out at least 4 times since Sagan wrote this in the 70's but it holds up well. He was a fascinating man.
Mother of Pearl
by Melinda Haynes.
Fiction again. I thought I swore off this stuff but this is interesting because Haynes writes with a fascinating combination of words. Here's a sample:
"So there inside that borrowed Ford truck while the rain beat down and they headed home, they cried with a sound like the wail of the Holy Rollers. Cried in rhythm with the worthless wipers slapping on glass like floppy shoes going nowhere."
Yeah, that's what I'm talking about. Throw a few pages of the dictionary in a blender and see what you can come up with.
I'm three-quarters of the way through this book and all I can say is she better wrap this up and make some sense out of it or I'll swear off fiction forever!
Do your reading habits change during the seasons? What are you reading? Have you read any of these books? I'd love to know what you think about them.