In my conversations about books many of you have mentioned libraries. The truth is I've been buying books and have accumulated perhaps 1,000, that are on shelves in our in-home library or tucked in bookcases through the house.
Realistically there are only a few that I will eventually re-read. Although I'm not ready to part with them just yet, I've decided that I cannot continue to "grow-the-book" problem.
Yesterday on my rounds of various errands, spurred by your inspiration, I got one of these: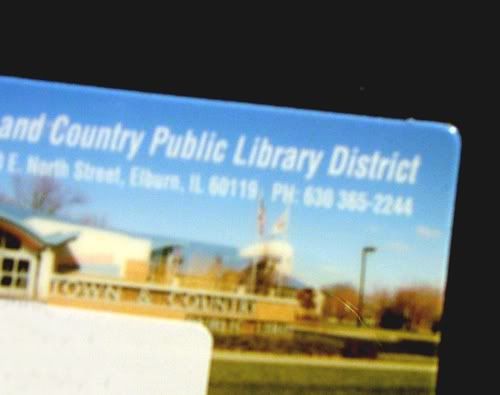 Sorry for the blurry picture. It's a library card. My first in 15 years! The last card I had was orange and had a metal tag attached to it. Do you remember those?
Unbeknowst to me, I've missed the library and things have certainly changed. When we first moved into this community the library was housed in a small storefront on Main Street. The floors were wooden and I loved the sound of footsteps on that wood. They still had the old fashioned card catalog cases. I saw some for sale at the local antique shop, perhaps they're the same ones.
A new library was built and I'm embarassed to say I've never been inside. It's very modern and beautiful. There's a reading area with a fireplace and a little coffee shop area. I can't imagine the librarians of my childhood allowing coffee near their books.
I came away with this stack, since I'm in one of those ravenous reading modes.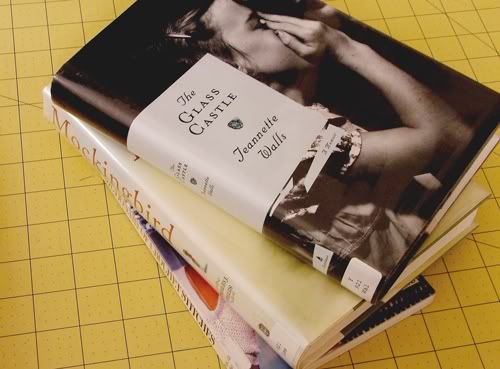 The Glass Castle has been recommended by many of you and I started reading last night. So far it's interesting although the writing seems a little flat to me. We'll see how it proceeds.
The other book is Mockingbird, which is the story of Harper Lee, who wrote To Kill a Mockingbird. I've always felt very deprived that she only wrote one book. What else could have come from her mind and her typewriter? We'll never know.
There's another book for my creative side. It's Vogue's collection of crochet stitches. Perhaps I'll find a wonderful design and create a scarf.
Thanks to all who planted the library seed in the back of my mind. It will save my pocketbook and relieve my shelves of any further weight.