Today we're going to make pumpkin soup. This recipe is from
COOKING DOT COM
. Be sure to visit the website and check out the great collection of recipes.
Let's gather together some of our ingredients.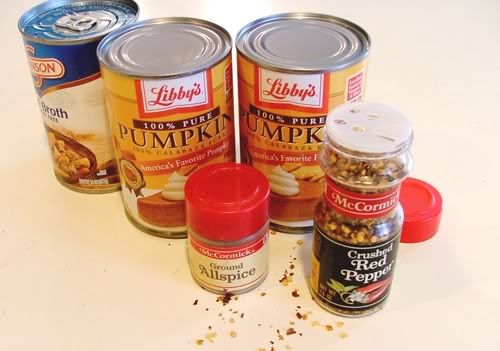 The allspice and crushed red pepper will give the soup some bite.
PUMPKIN COCONUT BISQUE
2 TBSP. butter
1 cup chopped onion
3 garlic cloves, chopped
3 cups canned solid pack pumpkin (NOT pumpkin pie mix)
2 cups chicken broth
2 tsp. sugar
1/2 tsp. allspice
1/2 tsp. crushed red pepper
1-1/2 cups canned,
unsweetened
coconut milk
Melt butter in a heavy, large stockpot over medium heat. Add onion and garlic and saute until golden, about 8 min.
Add pumpkin, broth, sugar, allspice and crushed pepper. Bring to a boil.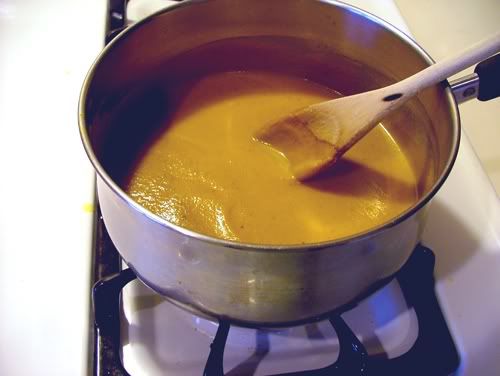 Reduce heat, cover and simmer for 30 minutes.
Working in batches, puree soup in a blender until smooth. (Don't skip this step) Return to pot. Bring soup to a simmer, thinning with coconut milk until it is the desired thickness and taste. Season to taste with salt and pepper.
NOTES:
Unsweetened coconut milk should be available in the Asian section of your local food store. It's a staple in Thai cooking. The soup will appear very dark until you puree it in the blender. My batch was VERY thick and even the coconut milk didn't thin it down enough for me so I added more chicken broth.
You can garnish the soup with toasted coconut if you wish.
I've had Pumpkin Curry soup many times before. This was different and was a hit with my family. The "kick" doesn't become apparent until a few seconds after you take a spoonful.
- - - - - - - - - - - - - - - - - - - - - - - - - - - - - - - - - - - - - - - - - - - - - - - - - - - - - - - - -
I hope everyone is moving along in their preparations for Thanksgiving. Thankfully I don't have to cook this year. My sister has invited the whole family over to her house and we're reallly looking forward to it.
Have a wonderful holiday.