Today I'm going to share my thoughts on Thanksgiving and take you along on our family celebration.
The Fourth of July is nice but in my book Thanksgiving is the quintessential American holiday. The tradition pre-dates the revolution and speaks to a time when survival was not assured. It's a time of gathering together to be thankful fofr the bounty in our lives, both of food and of fellowship.
If Thanksgiving didn't exist we'd have to invent it!
Each family has their tradition in terms of what type of stuffing is served but at it's core the day is about food.
My sister and brother-in-law were kind enough and brave enough to host the festivities this year. A proper Thanksgiving meal is alot of work and also involves preparing the house for the event. I've always said that the best way to get your house in order is to plan a party.
Here's the beautiful dining room table. Unfortunately this is after we ate. I totally forget to snap a picture before the meal. Notice the beautiful fresh flower centerpiece.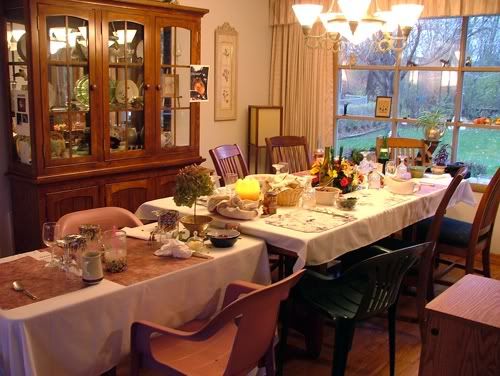 Gravy is the number one food item on our list. Our father was a cook in the Navy during WW2 and Korea. He was a gravy master, or is it Gravymeister? Whatever..... you could not get out of your childhood without learning how to make good gravy. It's almost a beverage in our eyes. It's keeping warm on the stove as we load up our plates.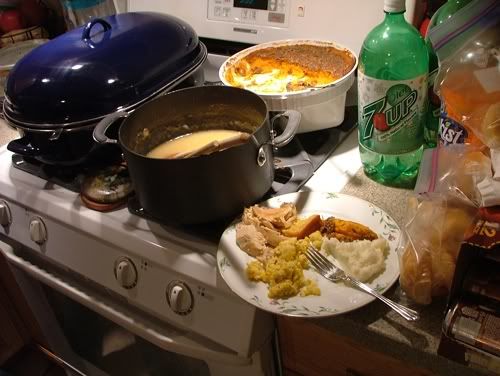 Deviled eggs are a staple. Yummy little bits of goodness.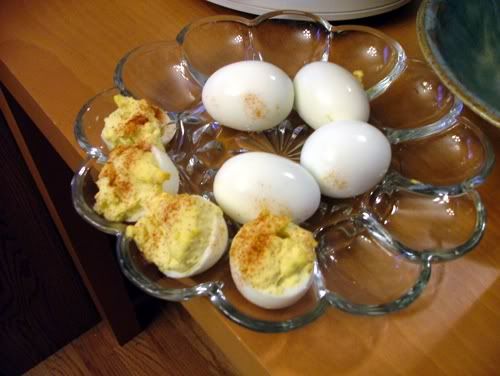 I'm sorry I didn't get a picture of the wonderfully creamy jello. It was black cherry combined with Cool Whip. It disappeared really fast.
This plate is only half full. I haven't made it to the zucchini casserole or the brandied carrots yet.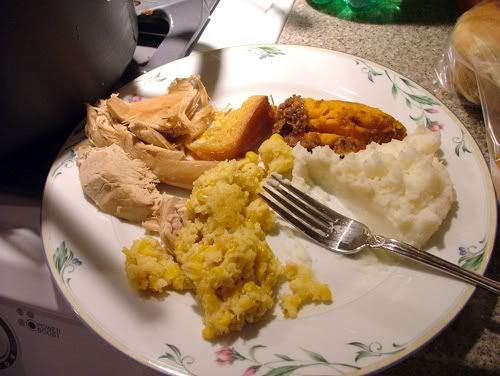 Jenny wore here Snuggie for Dogs. She was a little frightened by the sheer numbers of people who descended upon her territory.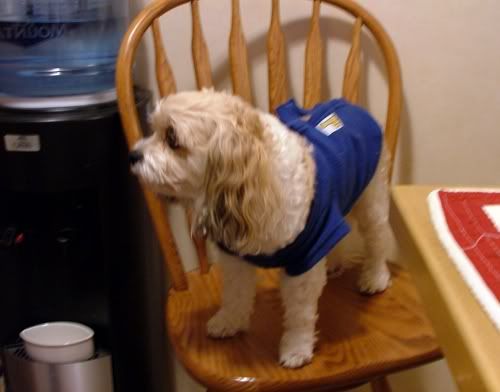 This is the cutest stinking dog I've ever seen. Seriously. She's a King Charles Spaniel/Bichon mix and a cuteness overload.
After dinner Mom went to work washing dishes. She LOVES washing dishes. No kidding.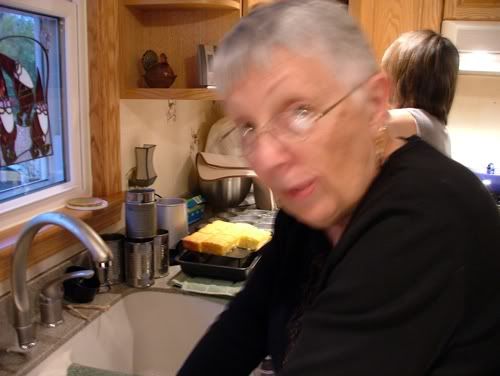 We all launched in on our family stories and conversations. Here is the Farmer's daughter holding court with her Uncle Ski.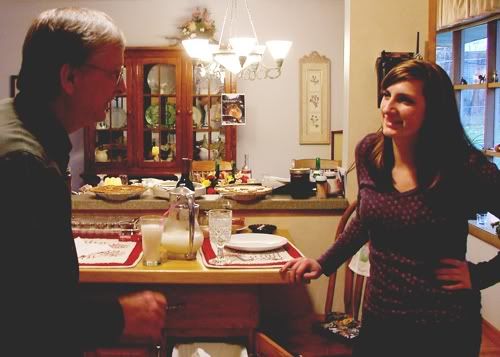 My sister and her husband figured large in my children's childhood. Almost every good family story is based on time spent at their beautiful place in northern Wisconsin. Fun, funny and crazy experiences.
After dinner the men retired to the man cave. Big screen TV and football ensued. Yet another tradition.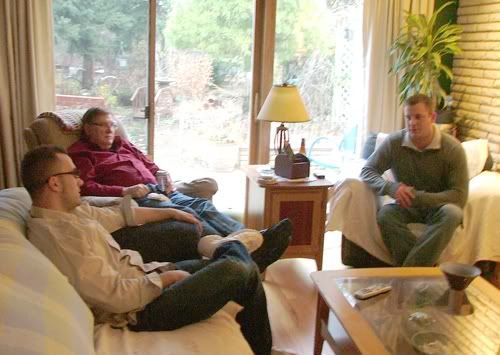 Left to right: the Son, the Farmer, the Daughter's boyfriend
Wonder when those football players celebrate Thanksgiving.
The cranberry sauce was delightful. I failed (yet again) to get a photo. My sister had sliced the sauce out of the can and then cut pieces using a small maple leaf cookie cutter, the same one used to cut the pastry embellishments for the pie.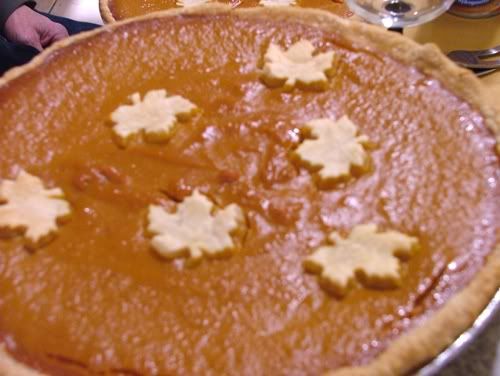 You know me, I'm all about the pie. The saying goes, "as American as apple pie" and though many view apple pie as the ultimate American tradition, I beg to differ. It's pumpkin pie all the way. Creamy, slightly spicy goodness. I think I'll bake one today in anticipation of the Monday Morning Staff Meeting.
I'm thankful that people are willing to take on the work involved in hosting a Thanksgiving dinner. It's a terrific celebration.
For those of you outside of the U.S., I hope this explains the day.
For an American, nothing is sadder than to be far from family and friends on Thanksgiving. Many years ago I spent the day a thousand miles from my family, having a mediocre turkey dinner on a military base under fluorescent lights. We were so poor we didn't even have a phone with which to call our family. My loyal reader Schnitzel recounted her Thanksgiving in Germany where the Trout was stationed. She was determined to create Thankgiving and cooked a turkey roll on the landing of her apartment.
SCHNITZEL COOKS A TURKEY ROLL
Thanks for coming along to Cindy and Ski's for Thanksgiving.
P.S. The only downside to going to someone else's house for Thanksgiving is __________________.

(Fill in the blank. I'll have a giveaway on Monday, drawing a name from the pool of correct answers)