Yesterday the Farmer and I did some errands together before his appointment with an ear doctor. He's been having pain in his ear on and off for a week and decided it would be a good idea to have it checked out.
Lately he's been driving me crazy because I'll say something or ask him a question, with no response. Many, many times I'm left standing there exclaiming, "I guess I'm talking to myself again." It's only at this point that he responds, "What? What???" It's frustrating.
The doctor performed the examination and couldn't find any infection and decided to give a full exam including a hearing test.
The Farmer listened to beeps and blips and raised his hand and pointed per the instructions of the person giving the test. The results were explained to him by means of a graph. They accurately predicted that he would have great difficulty following a conversation in a restaurant or say, a wedding reception.
I was sitting in the waiting room when he returned with a odd smile on his face. Something like this: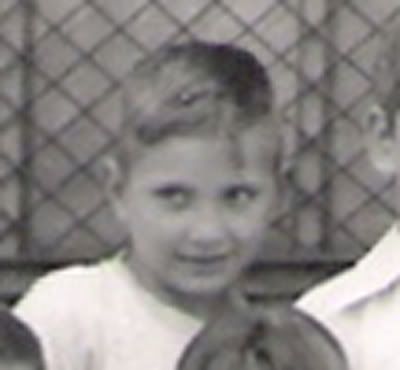 The Farmers as a kid
"What's up with you?" I asked.
"Well, the doctor explained something to me," he replied.
"When you read a certain age you lose parts of your hearing in certain ranges. There's certain bands of the range that you have great difficulty in detecting," he continued.
"Like what?" I asked.
"Well, actually a woman's voice is a higher range than a man's"
Can you guess where this conversation is going?
"It's very difficult if not impossible to hear that female voice if there's say, a TV on in the room."
HUH??
Did he just say what I think he said? Yep.......
Ladies, your men are not ignoring you. They simply can't hear you because of this special form of hearing loss.
It MUST be so, because the doctor said so.
But, then again, he's a man.