When I was a kid my friend Carol announced haughtily that she had a pen pal. Huh? I was a very simple kid, unsophisticated in the ways of the world and I had no idea what a pen pal was. This was also a time in my life when I would never, ever admit that I didn't know something so I relied on bluffing.
"Oh, really," I said.
My mind raced to try and deduce what a pen pal might entail. Hmmmm, perhaps it's people who trade fountain pens back and forth? There was a pregnant pause. I didn't dare say a word lest I reveal my ignorance.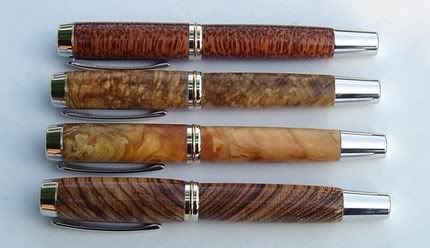 "Yes. She live in France and she's working on improving her English skills. How about you? Don't you have a pen pal yet?"
"No, no.... not yet," I answered. "I'm waiting to be assigned one. I'm hoping for someone from Borneo."
Yes, that was me, always grasping for straws and engaging in one-upmanship. I certainly had to choose something more exotic than France. Borneo did the trick.
"Wow, Borneo. Where's that at?" asked Carol.
See what happens when you engage in this type of behavior? You dig yourself a deeper hole with every syllable.
"Somewhere.... out there.... in the Pacific. Somewhere."
At that time, in the early 1960's, I believe you found pen pals by responding to tiny ads in classified section of the newspaper. But I was lazy and unmotivated to write to anyone, in Borneo or Indiana. So I never had a pen pal as a child.
But we grow up and we learn to admit when we don't know something. We get motivated and inspired to do things that we missed out on as a kid.
Thanks to the friendships I've made on the internet and real life, and the fact that I love, LOVE handwritten correspondences, I now have four pen pals. FOUR. I'm making up for lost time.
The interesting thing is my pen pals live in environments that are foreign to someone from the American midwest. Three of them live near oceans. Although Lake Michigan is only 45 miles away from here and it's such a large body of water that it creates it's own weather, it's freshwater and NOT the ocean. My other pen pal lives in a region with a very old and weathered mountain range. Again, a landscape as foreign as Mars to a flatlander.
My east coast pen pal lives near the Chesapeake Bay. (Is that spelled right? Doesn't look so.) She's a rock solid friend of many years. We've been through life's most horrendous experiences together. Some philosophers (and Abraham Lincoln) express the thought that in life you are just about as happy as you choose to be. But I'm here to tell you that sometimes life throws you some curves that are downright devastating. We just do the best we can.
My pen pal relationship with my weathered mountain friend is a one way street. She's a spunky 93 year old who is legally blind. She's led the most interesting life and is appreciative of any correspondence. I love Judy and it's a challenge to find interesting articles and photos and things to send her. We get together in person at least once a year and I treasure her.
I have two west coast pen pals and I love them dearly. They allow me to blow off steam and never make judgments. They listen!!! I love good listeners. One in my southern California Surfer Girl and the other is my wonderful Pacific Northwest friend, my listener supreme. They are both incredibly patient because I often take waaaaaayyyy too long to respond to e-mails.
I'm a post card girl. I love post cards and it's fun to choose interesing ones that I know my pen pals will like. Everybody loves to receive a "wish you were here" card, right?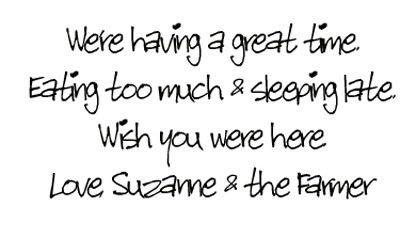 With that in mind I'm going to do another one of my Post Card Projects. Come back tomorrow and learn how you can join in.
Till then, I'm sincerely yours.