For over two years the Farmer and I sponsored a child from
King's Garden Orphanage it Haiti.
The orphanage and hospital are the work of Dr. Hubert Morquette and his wife Junie.
Dr. Morquette
is a native Haitian who was educated in France. Instead of pursuing a lucrative career elsewhere, he chose to return to Haiti and attempt to make a difference.
The orphanage is an island of sorts in the midst of extreme poverty. The children attend school on the grounds, which is over three acres and for security reasons is circled by a high wall and razor wire. That sounds scary, doesn't it? Living your life surrounded by razor wire.
My friend Tony has been to Haiti many times on mission trips, one of which was to build desks for the school. Upon returning from one of the trips he asked me which child we were sponsoring.
"James, Baby James," I said.
Tony became very animated and recounted how James was one of his favorite children. He was dubbed "Baby James" because there were several other boys named James and he just happened to be the youngest.
Enter Jeanne and her husband. They went to Haiti on a mission trip and fell in love. No, not with each other, that had already happened. The fell in love with James and a very young child who'd been brought to the orphanage when she was a baby, near death and not expected to live. It was Phara, and she struggled for years to grow and develop. Because of her early health and development issues she didn't walk until she was three.
Upon returning home from Haiti, Jeanne and her husband made the decision to adopt James and Phara. This was no small decision because they already had three grown children and two adopted children. But they were committed.
I remember getting the e-mail from Jeanne explaining their decision. I was happy beyond measure but that was tempered by the fact that I knew it would be a long, long and arduous task to get those kids out of Haiti. I won't go into the political issues, that's a rat's nest. You can search the internet yourself for tales of corruption and legal tangles. Let's just say I knew it would be YEARS, if ever.
Jeanne and her family were steadfast in their committment to these children. Three years. After three years they were no closer to bringing them to the U.S. And then the earthquake.
That earthquake is the only reason those kids are out of Haiti. Let me say, I'm not casting aspersions on Haiti. The people are amazing in the face of their challenges, but the children have no future. There's nothing for them to do at 18 when they're finished with their schooling and too old to live in the orphanage.
James and Phara were flown out of Haiti on a humanitariun visa six weeks ago and are now being legally adopted in the U.S.
The trip out of Haiti was difficult for everyone. The kids, having been insulated in the orphahage, had no idea of the level of devastation in their country. Jeanne reports that Port Au Prince is still devastated beyond belief. The children were shocked.
Jeanne drove up to Chicago from their home in the south. There are quite a few other Haitian children adopted from King's Garden that live in this area and Jeanne thought it would be good for them to see some of their friends. We met in a park and Jeanne told of the challenges facing all of them. Jeanne speaks a smattering of Creole and the kids speak a bit of English and so they communicate remarkably well.
Here's James on the left, with one of Jeanne's other sons, Tamond.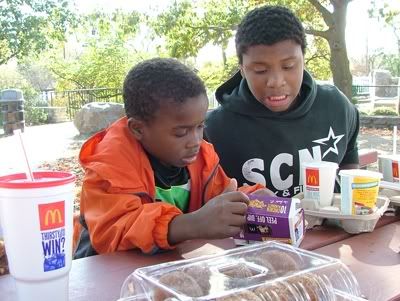 James was understandably shy and didn't much want his picture taken.
Look at beautiful little Phara. She shows no signs of her earlier developmental problems. She was hanging on the monkey bars!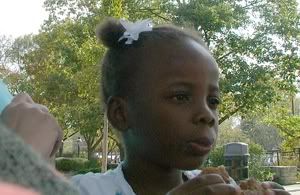 Please keep this family in your thoughts and your prayers. Remember, the kids have left the only life they knew and coming to the U.S. is like being dropped on the surface of Mars, such is the difference in culture, language and lifestyle.