The Farmer and I are Sandwich Kids. No, this does not mean that we are fond of peanut butter and jelly on squishy white bread. It means that we are sandwiched between our children and our aging parents. It's true that our kids are not young, but one is still at home and navigating nursing school.
Our fathers are gone, having died at the relatively young ages of 65 and 68. I can honestly say that as a child I never actually knew a person that was in their 80's or 90's. That was an extraordinarily long time to live in those days. But through the miracles of modern medicine I know many, many people who are over 80 and 90, including both our mothers.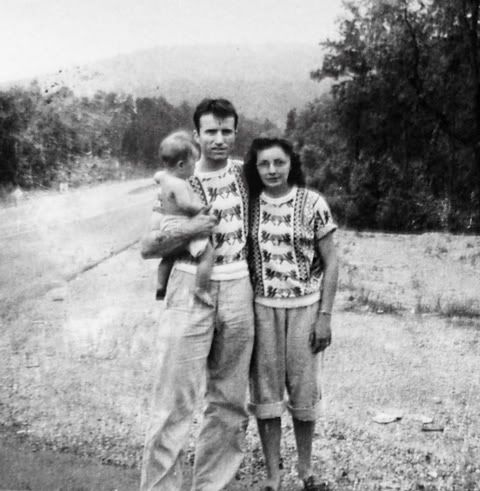 Mom and Dad, holding me - 1948
The "miracle" is a two edged sword and I'd like to continue the conversation I began yesterday. It started innocently enough, talking about winter coats, but as I wrote the subject swung around to moms and failing memories, my own memory included!
The care of elderly parents is a big part of many of our lives. Personally I feel like I'm sailing alone in uncharted waters. Some would criticize the fact that I speak plainly here on an open forum about the Mother and the Other Mother's problems. I would understand that criticism because in the past we believed in keeping family issues in the family. But that all changed during my battle with depression. One of the most crushing problems I dealt with was the feeling that I was alone, the only one going through the struggle. When I discovered otherwise it was a tremendous breakthrough and I vowed to speak out openly in the hopes that someone else could find comfort.
It's important to discuss these things openly. There's someone out there who has been through your struggle and might have a solution or suggestion that might help. Just the fact that they can listen and empathize is huge.
Yesterday Terri left this comment:
"My Mom sewed all our clothes... even stuff I wore in college. I think my wedding dress was my first purchased dress. I wish she was still that person, but she has had some stokes and now she is mean to everyone. (A little memory loss is not always a bad thing.) Thanks for reminding me of a happy memory. - Terri"
I was stunned because my sister and I spend alot of time discussing this very thought. As people age and are beset with health problems their personality changes. It's unsettling and strange, you never know who is waking up in the morning. We talk at length whether her personality was always this way and we just didn't see it, or perhaps age and illness have magnified the negative aspects. I just know that as time goes on it's getting harder and harder to remember the person she was, or is it the person we thought she was?
Another comment from yesterday:
"It is exactly my goal, my role . . . to remember for my mother w/Alzheimers. I remind her of the many memories she has related to me . . . entrusted to me. I retell them to my Mama and watch for a spark of rememberance, of recognition. I gift wrap the memories and give them back to my beloved Mama. - Nance "
Nance seems to have found acceptance and a positive response to her mother's disease, but I can tell you that coming to terms with the changes is proving very difficult.
I can remember being 19 or 20 years and thinking, "As I get older things will get easier and easier. I'll have plenty of experience under my belt and I'll be able to deal with everything."
Oh, to be 19 again and totally ignorant!!