I've been staying busy in my sewing room and not leaving the house very often but on Sunday I ran out to do some errands. The kids always made fun of me because I always take the back roads to travel around the county. I avoid the high traffic area until I turn my car into the shopping area.
One of my favorite back road routes takes me past open corn and soybean fields, a local wholesale landscaper, a farm that boards horses and many barns. On Sunday I took this route for the first time since our windstorms, which were actually clocked at category 3 hurricane levels.
This is what I saw when I turned the corner onto Dittman Road.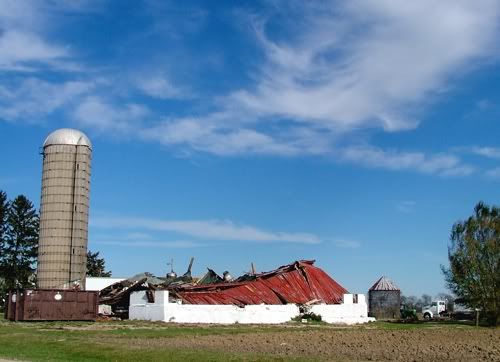 This barn was blown over. I have many pictures of this barn somewhere on this computer or on the separate hard drive but I can't find them yet!! The roof had been somewhat of a patchwork affair but the barn itself looked stable. Believe me, I've been around and photographed enough barns to be keenly aware of which ones look dangerous.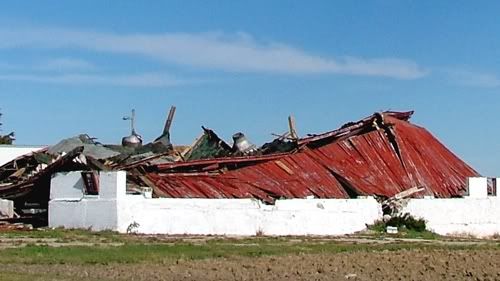 You can see that the wind came from west-southwest and caught the corner of the barn flattening it on it's side. You can't see the farmhouse which is a short distance away an in the direction that the barn collapsed. Luckily it was far enough away to escape damage.
It's not clear whether there was anything stored in this barn. There were no livestock but perhaps there was equipment or vehicles.
It's very sad to see yet another barn go down. When I got home I grabbed a piece of paper and pen and just off the top of my head I can tally 10 barns down since I started my photoblog 5 1/2 years ago. We are witnessing the final death throes of a way of life that is quickly becoming history in this area.
This is not something that is only happening in the American midwest. I get e-mails from Spain, Portugal and other places in Europe, assuring me that the farmhouses, barns and old dwellings are being left to disintegrate. It would be wonderful if someone had the time and money to transform these structures into a new and useful life.
- - - - - - - - - - - - - - - - - - - - - - - - - - - - - - - - - - - - - - - - - - - - - -
P.S. Don't forget to vote today. Freedom and the right to vote is a privilege. Remember, that somewhere in the world today someone is risking their life in the hopes of gaining freedom.