Yes, I'm leapfrogging books again. What's leapfrogging? It's reading more than one book at a time.
I'm getting better about this because I used to have a book in each room and would simply pick up and read based on where I was sitting. My brain can't take that kind of thing anymore so I don't read any more than two books at a time.
Imagine my surprise when someone offered me a book to read and review. Hmmmmm, someone must have gotten word that I was housebound by the weather and without reading material. Yes, we have about 1,000 books in the house, stashed in various bookshelves in every room. Have I read them all? Mostly, but I draw the line at the Farmer's 1997 U.S. Tax Codes which is a little dry for my tastes.
Probably the number one reason the book fascinated me was the cover.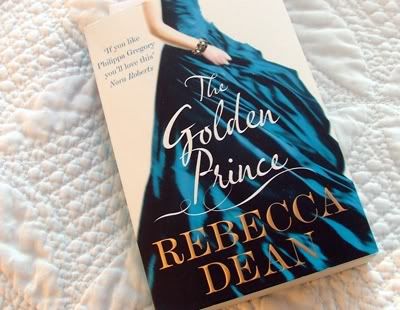 Look at that sumptuous fabric, those beautiful folds in the ball gown. Gosh, I'll never wear a ball gown in my life so this is the closest I'll get.
The book was sitting on the kitchen table when the Farmer spied it.
"What's that?"
"Someone sent me a book to read and review."
"It looks like fiction. You don't read fiction."
At this point I take a moment to think about his observation. Can the cover alone denote fiction. In the Farmer's case it can.
"I know, I know.... I don't really like fiction but I thought I'd give it another try. The book sounds fascinating. It's about Edward VIII, and you know how I love history."
The book is actually based on historical fact. When he was still the Prince of Wales and serving in World War I, Edward fell in love with a pretty Red Cross nurse. Although the woman was aristocratic (the daughter of a Duke), in the eyes of Edward's stern father she was a commoner and thus, he refused to allow them to marry. Rebecca Dean has taken those facts and created a fictionalized account.
The whole subject seems quite interesting in light of the fact that Edward's great-nephew is marrying a commoner with the blessings of the royals.
A short way into the book and I'm already in trouble. It really has nothing to do with authors, it has to do with the fact that I lack the ability to "suspend belief" and simply enjoy a story. It's me. The other problem is that I know too much. Seriously, my brain is jammed with thousands and thousands of bits of information that I may or may not ever need. That is why I was always captain of the trivia team when I worked at the local newspaper.
Here's an example of the type of trouble I get myself into when reading fiction. The author states that the main character steps over her chocolate colored lab. The brain comes to a screeching halt. Chocolate colored lab? I'm pretty sure that chocolate colored labs did not appear until the 1930's. A quick trip to the internet reveals that at the turn of the century labs were actually called St. John's water dogs and they were black.
Do you see how crazy I am? When reading fiction I'm often calling out loud for the author's home phone number because I'm wanting to quibble over pretty insignificant details. I'm crazy that way.
Anyway, I'll continue to read with interest and struggle to calm my crazy tendencies.
I'm pretty sure this post isn't exactly what the marketing group had in mind when they offered the book for my opinion. But...... I gotta be me!!