How's that for a blog title?
Unlike other parts of the country we've had plenty of snow this year. Enough that the village snowplow took out our mailbox on Christmas!
Yesterday I showed you a case of whiteout. There have been many instances of that this year. We've also had lots of hoarfrost which is unusual because normally we only see one or two a year. It seems to be a daily occurrence here lately.
I'm sure if you search the term on a search engine you'd come up with a scientific explanation of how it's formed. But in the case of hoarfrost, I don't care. Sometimes knowning all the details just spoils the magic. You know what I mean?
And you can be assured that hoarfost is magic.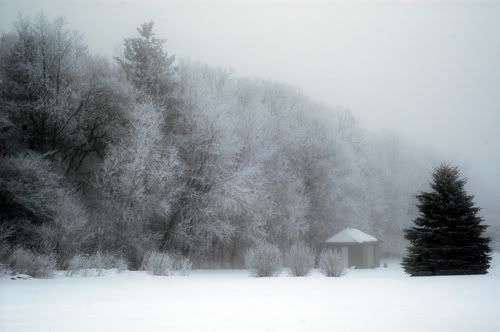 The view from my sewing room window last winter.
It creates a fairy wonderland in white. There are some benefits to living in a cold climate. Some of you may not believe that but it's true. Last week when I was driving out to visit my mom, the entire countryside appeared as if the sky had opened up and sprinkled powdered sugar over everything. Every surface was covered. Such a thing of beauty could make a person weep.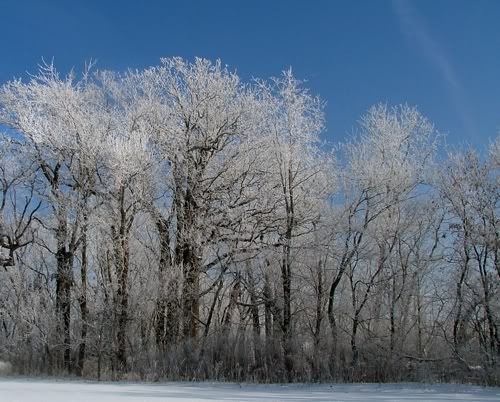 Grove of trees dusted in hoarfrost.

This morning we were treated to the magic yet again.
I had to drive a mile or so to the town hall where they issued me a temporary mailbox. Here's the long view from our town hall west towards the town.
It's not exactly a town in the traditional sense. There's a cluster of homes and two churches. In the distance you'll see the old country church. There are no shops or gas stations.
Here's a closer look at the scene.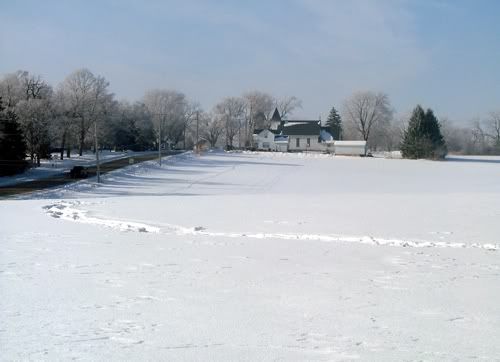 The Farmer and I were raised within spitting distance of the city of Chicago and city life holds no excitement for us. We don't miss the crush of people, the smell of bus fumes, etc. etc. We're happy to live in a peaceful setting.
Like I said, the natural beauty could make a person weep.