Do you remember those old time slipper socks?
The upper part of the slipper was a patterned knit, something like a Scandinavian sweater and the sole was leather (or fake leather) that was whip stitched to the top. I remember getting several pairs when I was a kid.
Someone wasted their money for sure because I never, ever wore slippers of any kind. I've always been a barefoot-in-the-house kind of person. My shoes are off faster that you can wink, as soon as I walk in the house.
My distaste for wearing shoes (or slippers) must be hereditary because I don't believe my great-grandmother ever owned a pair of shoes. It wasn't exactly necessary in backwater Florida in the 1800's. My father was not wearing shoes in any of the pictures of him as a kid. Again, they weren't exactly needed in rural Florida. The kids walked to school, played and worked in the fields barefoot.
When the weather turned cold this fall I started wearing socks around the house. Somehow my foot thermometer has changed and the socks felt good. So, last week while shopping in Target I spotted a pair of slippers that were a soft suede fabric, lined with a fleece material. They looked like the slipper form of an Ugg boot. The bottoms were hard soled and I thought, "Oh, so cute. I could probably also wear them as shoes." They were definitely an impulse purchase. They just looked so nice sitting on the display and so I took them home with me.
The next evening it was getting chilly in the house and I made a beeline for my cute new slippers. On they went, so soft and cozy, and I plodded off to the computer to read some e-mail.
Five minutes. FIVE MINUTES. No, I take that back, it was UNDER FIVE MINUTES!! My feet felt like they were wading through pools of hot lava on Mount Kilauea.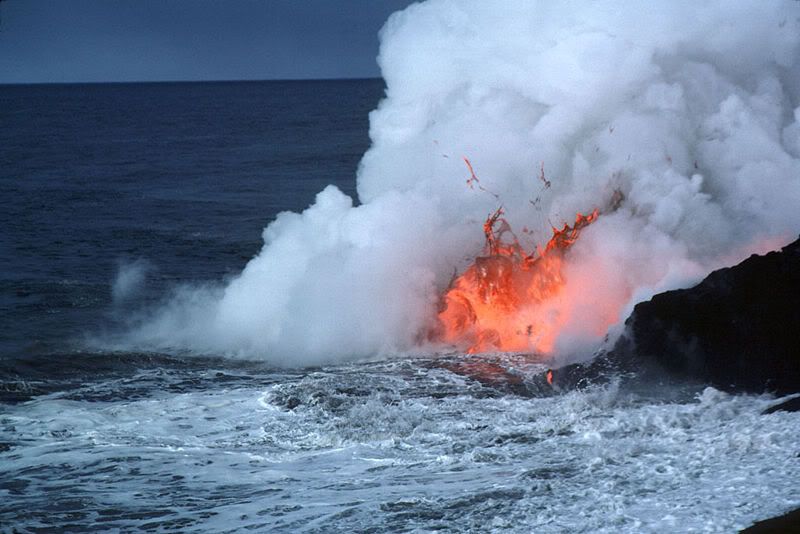 Pele hot.
It was terrible, horrible heat and off those suckers went - back in the box, back in the bag, back to Target they go!
This is not a case where I'd be willing to suffer for fashion. Remember wearing 4 inch heels or go-go boots? No more.
My sister came to the rescue and showed me how to make a pair of thinner, cozy slippers from a felted wool sweater. They're just softly warm, very lightweight and they're just enough.
How about you? Do you wear slippers?
P.S. I'll ask my sister if the basic slipper pattern is copyrighted. If it's not I'll share with you.