Good morning everyone. I apologize for being gone so long, but I've been catching up with chores and other projects after the holiday rush.
Like the Farmer, I've been plumb tuckered out.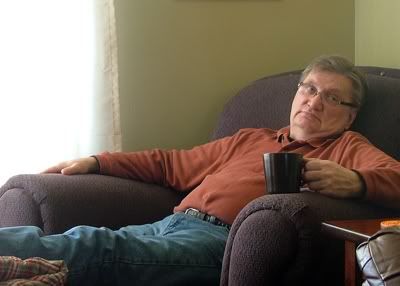 The Farmer, in an post-holiday mode.
- - - - - - - - - - - - - - - - - - - - - - - - - - - - - - - - - - - -
This morning I'm serving chocolate cake. Please grab a slice. There's also various beverages available; juice, coffee, tea and of course, cold milk.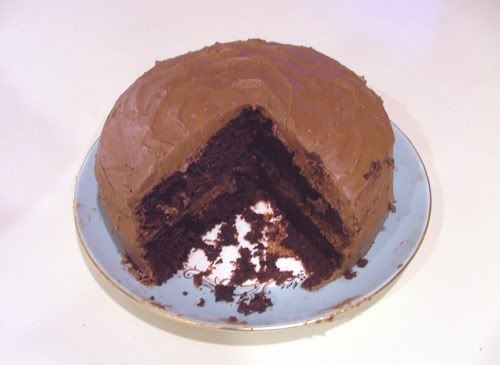 I do apologize that this is made from a box mix. The frosting is from scratch. The difference between a box mix cake and a cake from scratch is quite striking. Box mixes are formulated to be easy, with a minimum of ingredients. What you get is a spongy, somewhat bland cake.
For a recent neighborhood gathering I made a buttermilk white cake which was a hit. Sometime soon we'll bake a cake together using a recipe from Rose Levy Beranbaums, Cake Bible.
- - - - - - - - - - - - - - - - - - - - - - - - - - - - - - - - - - - -
The promised postcards from the recent Postcard Project are on their way. I hope you enjoy the photo, it's an iconic Illinois image. I still need two addresses though - Jenn and Tess, please contact me so that I can get a card in the mail to you!
- - - - - - - - - - - - - - - - - - - - - - - - - - - - - - - - - - - -
One of the reasons I've been absent from this blog is that I started my new job. I am working for a marketing and sales company that does demonstrations in local stores. I like to cook and I like people, so it's a good match!
Cooking and demonstrating food products means you are quite busy. You cook your food back in the kitchen area and keep it warm and dish out samples. Of course, we are required to take the food safety class. Let me just say this ....... I wish I hadn't taken that class because now I know too much!! Who knew all kinds of nasty stuff might lurk in your food if improperly handled. It puts me off wanting to eat in any restaurant.
In addition to providing samples of food we also promote non-food products. In that case you're not so busy. There's no stirring, dishing, microwaving and that allows you to people watch.
People watching is one of my favorite pasttimes. Last week I was promoting a room freshener, which allowed me to observe (and engage) the parade of shoppers. I saw so many cute couples, young and old. People who honestly looked like they belonged together.
There were elderly couples who have spent a lifetime together and the young couple who looked like famous musicians. The guy was a dead ringer for the young Stephen Stills and his partner looked like Linda McCartney.
There are those people who are unapproachable. Those with a high wall builts around them and faces that express pain and disappointment. How can the slight alignment of facial muscles reveal so much about a person?
I like the job and the hours allow me time to do the other things I love.
- - - - - - - - - - - - - - - - - - - - - - - - - - - - - - - - - - - -
I want to introduce you to a blogger that I found via Etsy. Her name is Paige and I love her blog. She has tutorials on lots of wonderful projects. Check her out and come back.
HANDMADE BY PAIGE
Her Etsy shop:
PINK LEMONADE
This girl is only 14 years old and she's talented and enterprising.
Craft Hope has a new project. It's a kit that helps pregnant women have a safer delivery in third world countries. Can you find it in your heart to get involved?
CRAFT HOPE - HOME DELIVERY KITS
- - - - - - - - - - - - - - - - - - - - - - - - - - - - - - - - - - - -
Have you noticed a swarm of bloggers dropping by the wayside? Debbie, the owner of Curious Sofa in Kansas City, has closed the doors to her shop. She'll be selling some product online. I applaud her brave decision to do what is right for her. Recently she'd been featured in magazines and blogs. She was the hot new kid on the block. But the idea of closing the shop had been brewing for awhile. It had taken over her life and she didn't let her recent fame deter her from making the necessary change.
Curious Sofa was on my bucket list of places to see when I finally retired and had the opportunity to hit the road. I'm not disappointed because Debbie and her shop gave me plenty of enjoyment as I dreamed about such a trip.
What is Debbie going to do now? She's purchased a vintage trailer and she's going to hit the road herself, visiting all the cool antique shows around the country.
Good for her!!
How about you? Do you have a place you'd love to visit? Or a suggestion as to where I should check out someday?
Thanks for joining me this morning and thanks for being a loyal reader.
One more photo.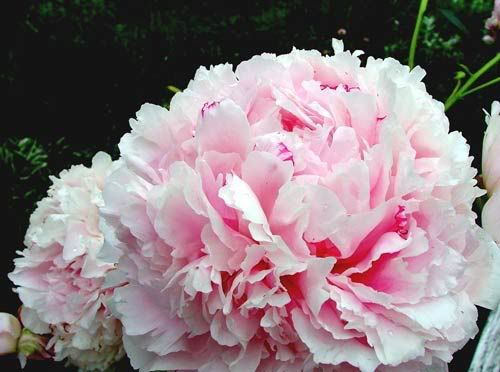 Thinking of spring.