This would have been posted early yesterday morning but it seems that Blogger was feeling ill. Hope everything is much better now.
Recently I took the Other Mother to a school function for her great-grands. A school outing with a 90-year-old (technically OM is 89 but her birthday is soon so I make the leap) is a huge challenge. At one point during the morning I learned that in order to observe the great-grands in their classrooms we'd need to climb three flights of stairs! I suggested that the Other Mother stay put at a table in the gym with a nice cup of coffee.
But, of course, she refused that suggestion and up the stairs she tottered, with me behind to break any potential falls. Let's just say that I'm challenged daily with OM's sometimes dangerous behaviors. I can't understand the attraction of putting yourself in harms way.
The students put on a nice presentation and at one point this girl took the stage. Of course I would never show her face, identifying her without her permission, but I feel that the world needs to see her adorable dress.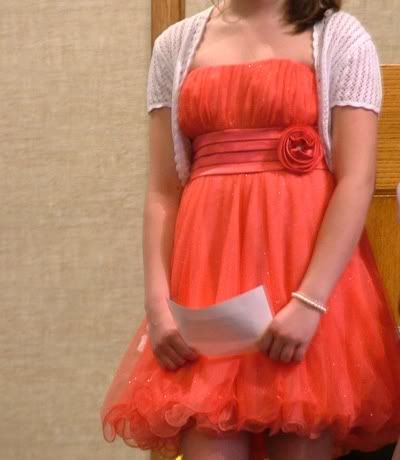 Perhaps this silhouette is so appealing to me because I was raised in the 1950's and 60's. Like a baby duck who imprints on their mother, I imprinted myself on the late 1950's prom dress style.
This coral dress was so adorable, with it's wide, gathered waistband and fabric flower. The hem was what they used to call a lettuce edge, all wiggly like curly green leaf lettuce. For modesty she's topped it with a little shrug. The dress wasn't too short, too tight or too revealing. It was the Goldilocks dress - just right.