I had a giveaway recently. If you remember you were supposed to guess where I was going wearing those Gypsy earrings. And, you were also supposed to guess whether I had given myself a Photoshop facelift.
BV and Marilyn were my winners but I forgot to mention what the prize was. They each got a set of these: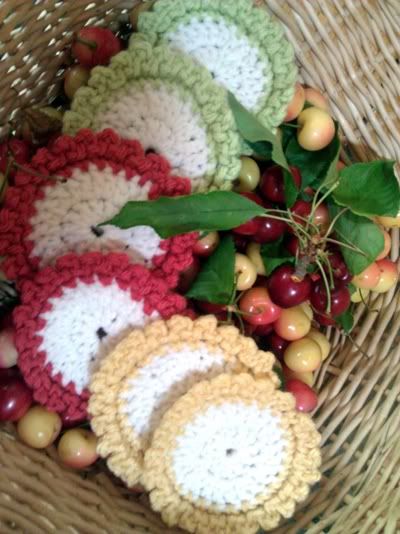 They are coasters that designed and crocheted. Barbara (BV) took the pictures and I'm thinking I need to hire her as my photo stylist and photographer.
I'm going to be listing these soon in my shop but honestly, they need a name! When I sent the note along with the coasters I called them "Happy Coasters" but that just seems lame. They need a good name, a name that resonates with their colorfulness....is that a word? Well, they are colorful. This is just one of the color combinations but they're all pretty similar.
Put your thinking caps on. Name those coasters. Leave me a comment with your suggestion and I'll pick one on Sunday night and announce it at the Monday Morning Staff Meeting. If you're the winner of Name That Coaster Contest I'll send you a set for yourself.
Good luck everyone!