It's clear that on days that I work it's necessary to put something in the crock pot for the family dinner.
Even though the Other Mother has plenty of energy to work 8 or 9 hours out in the yard, she just can't manage cooking anymore. And, at 90 years old you shouldn't be cooking!
This morning I ran to the store for the fixings for chili. It's very cold and damp here in northern Illinois. The other day was beautiful and the farmer's were scrambling their combines out into the fields to get as much harvesting done as they could. The weathermen were calling for rain and cold. Driving down the road late Tuesday night we spotted the lights of the heavy equipment, harvesting corn well into the wee hours.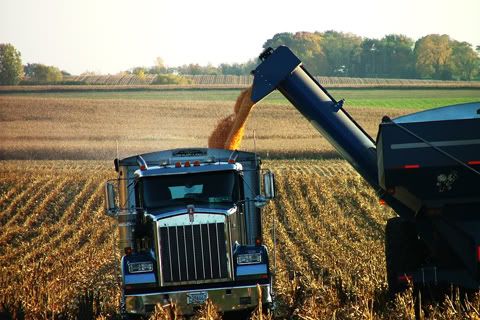 Harvesting the crop.
I walked the aisles of the food store, picking up the necessary chili supplies. At the checkout I ran firefighters from the local firehouse.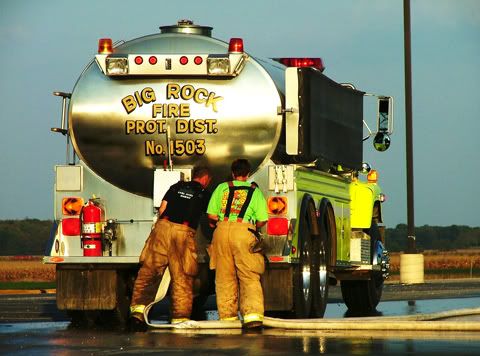 One of our local firefighting crews.
"So, what's for dinner gentlemen?" I asked.
"I'm making a roast with potatoes and vegetables," he answered.
"What time is dinner?"
"Six o'clock, if we don't have an alarm."
"Oh, too bad, I'll be at work."
I wonder, do they run out of the firehouse and turn the oven off? There must be a few ruined dinners.
As we were walking through the parking lot I gave them the easy recipe for shredded beef sandwiches - awesome!
SHREDDED BEEF
1 pot roast
1 pkg. Lipton's onion soup mix
1 cup water
Cut pot roast into chunks and place in the crock pot with onion mix and water. Cover and cook on high for 10 hours or more. Shred the beef and serve on crusty rolls.
Oh so good, a perfect fall dinner. Serve with a nice salad. Try it and let me know what you think.
So, what's for dinner at your house this evening?