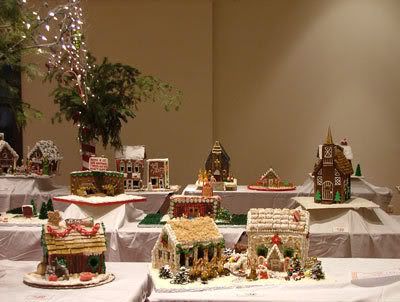 Many thanks to Geneva residents Alain and Esther Roby who organized and hosted the 2nd Annual Gingerbread House Competition. This event is part of the Geneva Christmas Walk. The Roby's original concept was to create an event that would encourage family and friends to collaborate on a creative effort, and also to raise money for a local charity.
Alain is the head pastry chef at Hyatt Regency Chicago hotel and one of the world's top chefs. He has been inducted in the Culinary Hall of Fame alongside James Beard and Julia Child. Esther is a creative force in her own right. They invest much time and effort and those efforts are rewarded with a premier event.
This year there were over 60 houses from the fantastic to the sublime. My entry last year did not win and I was determined to at least place this year. My son and I joined forces and chose a theme that we felt would allow us to run with creative ideas. Our hard work paid off and we were awarded 3rd place. We had lots of fun in the process. Here's our entry "The Nightmare Before Christmas".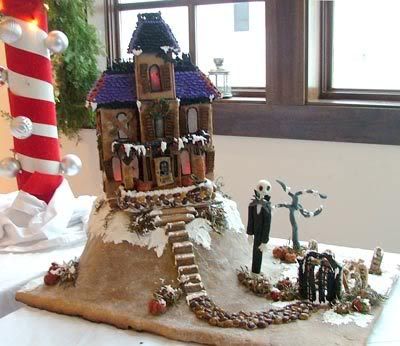 Here's a close-up of the house: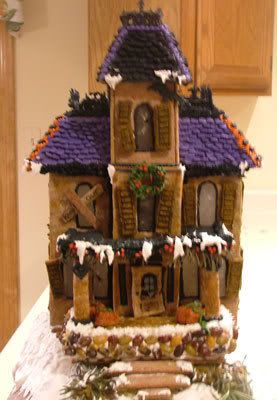 There were so many creative entries including "Fleas Navidog" complete with dog food bowl and a napping Chihuahua named Chico.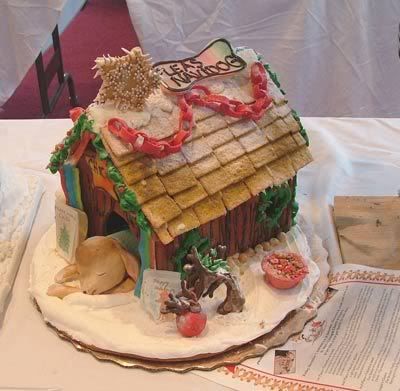 Here's the beautifully decorated church hall at St. Marks in Geneva, Illinois. They graciously hosted the event.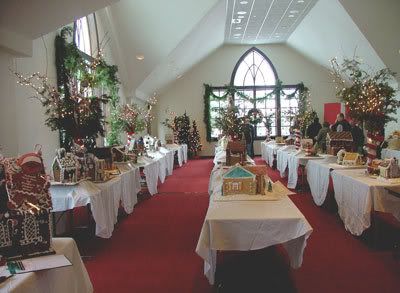 This is a house from the Harry Potter books: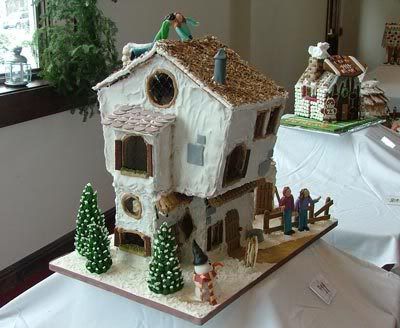 The house from A Christmas Story was complete with "Fragile" box in the front yard and leg lamp in the front window. So cute.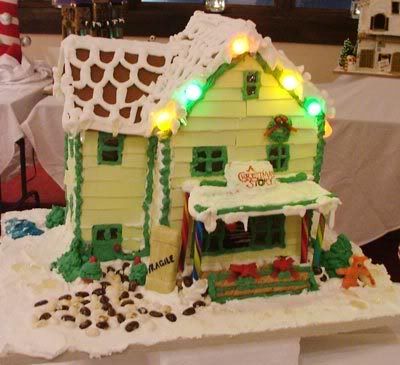 Skyscraping gingerbread - this entry stood over 7 feet tall when it was sitting on the table. It was an awesome effort.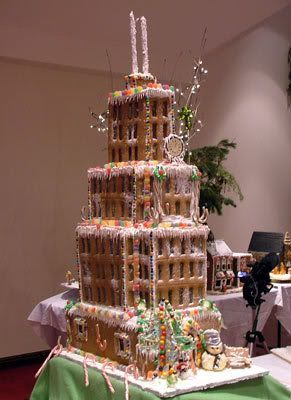 One of our favorites was Santa's Candy Factory. It was clever, graphic and very well made.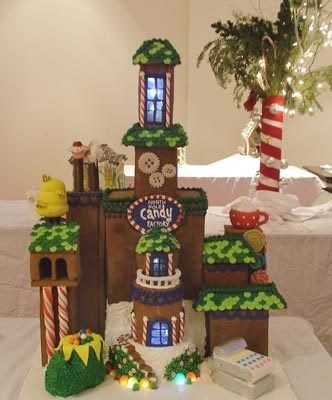 The People's Choice award was a replica of St. Mark's church.
The 1st place winner was a replica of the Dunham Castle in Wayne, Illinois. It was technical perfection. Notice a replica of Elvis' Graceland in the background!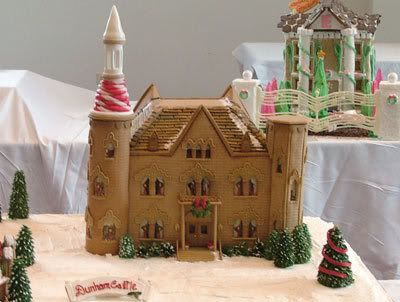 Many thanks to
The Past Basket
of Geneva, Illinois for donating the prize that we were awarded. It was very generous. I'll show you photos another day of the hand turned wood bowl and hand carved cherry kitchen utensils, something I'll treasure for a lifetime! They also included a $50 gift certificate so The Farmer's Wife is going to shopping.
Thanks for taking time out of your day to attend the gingerbread competition with me!
Be sure to visit tomorrow. I'll show you some of the handmade gifts I've made for Christmas.