You go to the bookstore, I'll just stay inside, look at the beautiful ice patterns on the windows and work on my cabin fever.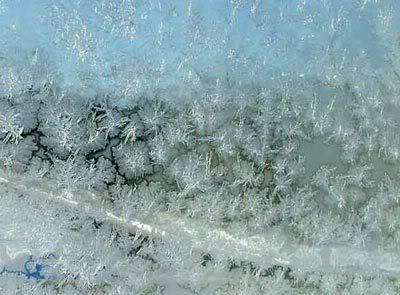 So what's going on in your little corner of the world? It was 30 below zero last night and the day dawned to blindingly bright sunshine which has warmed everything up quite nicely. It's now a balmy 15 below. And that's not taking the wind chill into account. Have I mentioned that northern Illinois is a tremendously windy place? The wind is as much of the landscape as trees or cornfields. If the wind drops to deadly calm we get very nervous. It usually means something bad is going to happen.
Yesterday Vee had some
interesting things to say.
Her son made a comment about the speed in which a house can feel like home. That's something I'd like to explore further sometime in the future. She also talked about changing perspective. Over the years the idea of perspective becomes a much clearer concept. At this point I've viewed life from many different perspectives, always changing. Child, teenager, young adult, young married......well, you get the idea. Each change in perspective brings with it the experience and tiny bits of wisdom from the stage before.
I remember as a 20 year old my perspective on life was that the older I got the easier things would be. That hasn't proven to be true. I examined why that might be and found that even though my experience and skills in dealing with life's problems grew through the years, the complexity and gravity of new challenges were growing at an even greater rate.
So why the bookstore you ask? All the blogging sisters seem to be having great successes in the publishing world.
Betz White
has a
new book
and it looks lovely.
Pam Garrison
is featured in Somerset and the ever-elegant
Corey
is in Victoria. Ladies, please! You could make a girl feel positively inadequate.
Also out on the magazine stand is the newest edition of Hallmark. I really like this publication and the March 2008 edition has an article written by our own Alicia, from
Posie Gets Cozy.
You read Posie, don't you? If you don't you should start today.
You can't miss the magazine because there's lots of hot pink on the cover.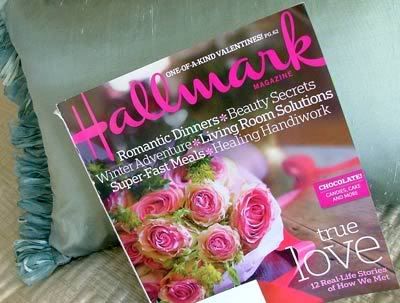 I think it's human nature to want to peek into people's lives. It's not a voyeuristic thing at all, but a natural curiousity about how people live and work. The article is entitled, "My Mended Life", and Alicia talks in depth about her accident and how her life would evolve. Here's Alicia and Andy. He's looks so cute untangling that yarn. If I could only get the farmer to help out in the studio.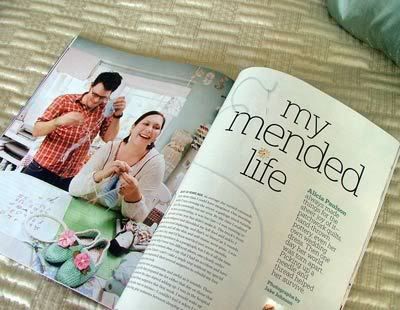 What a great smile. She looks like she'd be such a good friend. In fact, she is a good friend to us every day as she shares her challenges, triumphs and blueberry pancakes.
Clover the dog gets face time too. Jake Johnson's photos are great.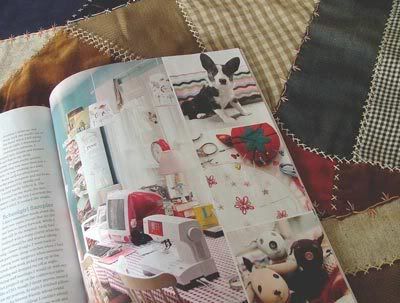 I encourage you to read her story and think about how it might apply to you.
I've been writing on the internet for about 8 years, on forums and several blog incarnations. There's one thing I've learned. No matter how I write my story, from what perspective or what I intend my message to be, the ultimate decision is up to the reader. They will decide what the message is for them. And that's a very exciting thought.
Alicia suffered a painful physical trauma but many of us have challenges that are not obvious at first glance. Perhaps we've had a difficult and unhappy childhood, or insecurities that hold us back. Alicia is a good example of how we can use those challenges to make better lives for ourselves.
Thanks Alicia, I appreciate the message and the beautiful way you deliver it.
Tomorrow we'll take a peek into my boudoir!