Yesterday I posted a story about baking a buttermilk pound cake from scratch. What you didn't realize is that the story was actually a comedy or a tragedy, depending upon your point of view.
The tale was heavily edited. By me. On purpose. With a fat red pencil and a permanent black marker. Why, you ask? Because the story didn't have a happy ending and I wanted to bring you back today so that we could learn some lessons.
First of all, here's the cake as it came (or in this case) didn't come out of the cake mold.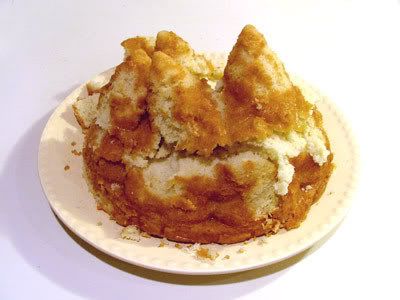 I've baked this cake many times during the two years I've owned this pan and this is the first time the cake has refused to release from the pan. There was no magical forest of buttermilk cake and snowy powdered sugar, there was just a spectacular failure.
The true story is worthy of a sitcom episode. Since the writers are on strike they have plenty of time to troll the internet for future story ideas and I expect a call anytime soon for the rights to the tale.
I'm sure I've mentioned the fact that my beautiful and hefty Kitchen Aid mixer decided to go on strike just before the holidays. That meant that I had to break out some vintage equipment for the job. Yes, it's a Brady Bunch harvest gold handheld Sunbeam mixer. I think it was a wedding gift.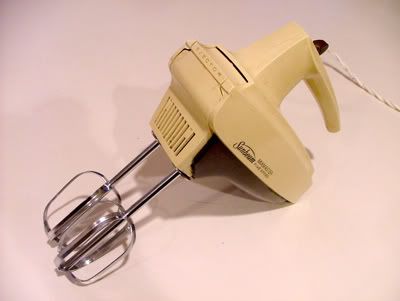 It still works and besides I can't get rid of it because it matches this: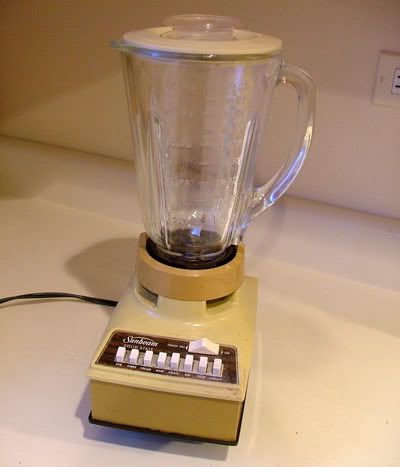 With strains of the 70's Show theme song playing in the background I begin beating the butter and sugar. About the time I'm adding flour to the mixture the Sunbeam begins to chatter loudly....and then quits. I frantically eject the beaters thinking that perhaps they were loose. I push the beaters back in and fiddle with the speed button. The Sunbeam springs back to life emitting a slight odor of burning rubber. I press on, thankful I don't have to bust out the really low tech device.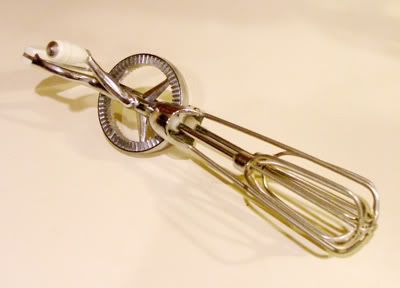 With the batter at the right consistency I spread the mixture into the very well sprayed pan and pop it in the oven and return to my studio to finish some aprons. Some time later I return to check on the cake's progress. The oven is
OFF
. I kid you not, the oven was OFF! I paid extra for this stove to get a feature called "Sunday Mode" which means if you forget to turn your oven off it shuts down automatically after a certain amount of time, two hours I think. This was under an hour. I have no explanation.
At this point I have no idea how long the oven has been shut down or how long the cake still needs to bake. I turn the oven back on and monitor the progress with a cake tester. At some point it seems done.
Ten minutes later the battle begins in earnest. I flip the heavy pan onto a crystal cake plate and slowly lift one of the edges....nothing. I tuck a sharp knife along the edge, loosening the cake from the side of the pan. Nothing. I become a little more aggressive with the edge cutting technique. Nothing.
As I'm pounding the pan down on the cake plate it occurs to me that this could have disastrous consequences and I switch to a sturdy ironstone plate. Pan and plate are bouncing wildly on the countertop as my temper rises. During one of it's acrobatic jumps it flies across the counter and cracks the coffee carafe.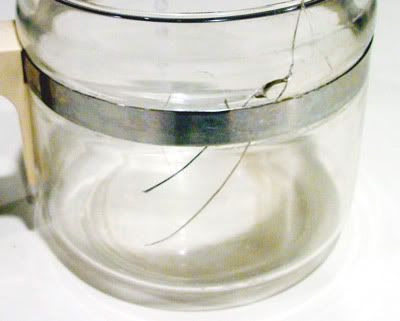 A frantic call to a friend who's a chemical engineer reveals that in most probability the loss of heat during the baking cycle has created the problem. The cake molecules were dancing wildly in the heat, too busy to glom onto the side of the pan. But remove the heat and all bets are off.
I decide at this point to just go for it, cutting and slamming until the cake mess descends from it's $30 designer tomb.
At this point there's a decision to be made. I could certainly bake another cake, the pristine, gorgeous variety that I fashioned in your mind's eye yesterday. But something occurred to me. This is real life. This stuff happens. And what if this happened hours before your dinner guests were arriving? One thing my old friend and supreme hostess Annie always told me, be prepared!
Annie was a wonderful mentor who banished my fear of giving a dinner party. Preparation and problem solving were everything in her eyes. And so.....a challenge was born.
THE CHALLENGE
It's hours before your dinner party for eight people. The table is set and prep work is done. You've taken the morning to work on your dessert, buttermilk pound cake to be served with brandy and freshly whipped cream. It comes out of the pan a total disaster, delicious but unpresentable.
Using only the items available in your pantry or fridge, design a dessert to wow your guests, turning disaster into triumph. In addition whatever ingredients you possess I will allow you to use two ingredient in my fridge for your creation - 2 pints of heavy whipping cream and 1 jar of raspberry preserves. I've pulled out some individual size glass dishes for serving purposes.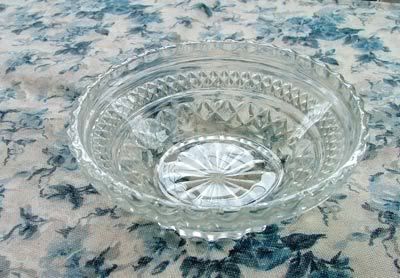 And a retro coffee pot to make coffee for the guests, since the cake pan took out the glass carafe.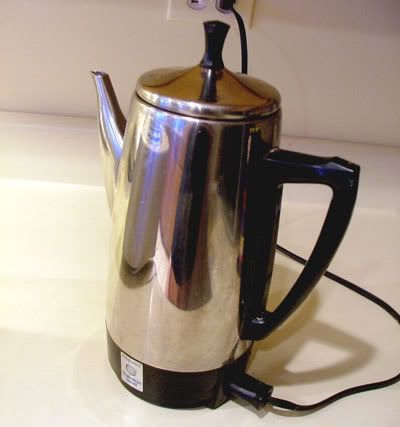 You will have till midnight on Saturday to design a dessert. The challenge will be judged by my friend who trained as a pastry chef. The winner will receive one of my retro-inspired half aprons. I will concoct your recipe and photograph for all to see.
CLARIFICATION:
You are to use the above pictured ugly but delicious pound cake as one of the ingredients for your dessert recipe. Cube it, blend it, whatever you decide to do. Then combine it with other ingredients to make a nice presentation.
E-mail your recipe to me at: Abscissa63@aol.com
Good luck to all of you. Now get cracking!
P.S. I promise to bake the perfect cake sometime in the future.
Tomorrow we'll have a little bit more about lessons and a peek at a fellow bloggers' magazine spread.